Fishtail is an incredible braid due to which today we have a number of hair styling ideas. This creative hairdo allows us to play with so many braided hairstyles and "feels" itself more attractive with different combinations. We love it and as a result it always provides us with astounding hairstyles. There is no any other trendy braid style which is so versatile and glamorous. It makes thin hair look thicker and highlights the beauty of thick locks. The trendiest braided hairstyles, perhaps are the fishtail braids in 2016. We see it on the runway and worn by stunning celebrities. Ladies are admired by the elegance of the fishtail braid. Some of the most popular combos are collected below.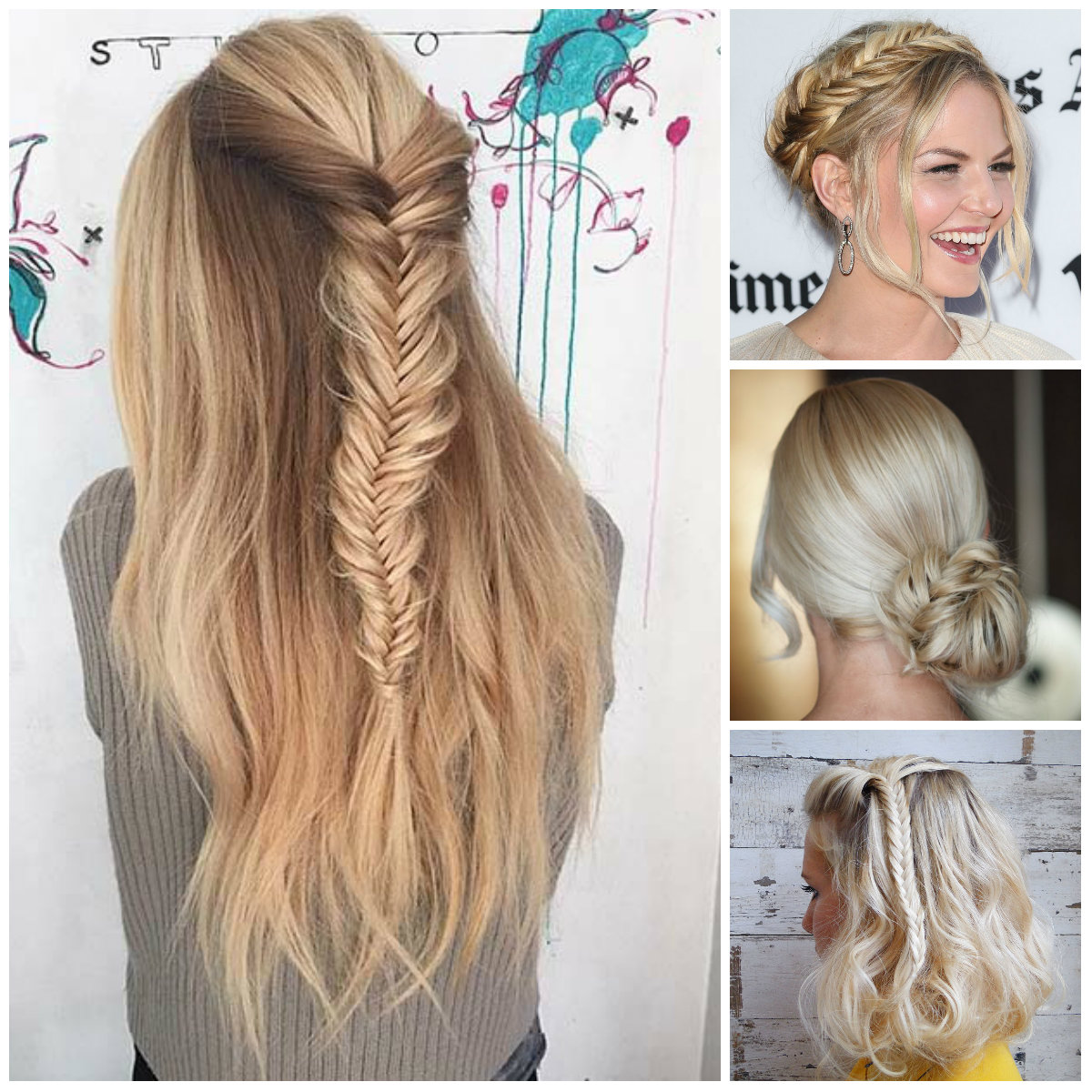 Fishtail Bun Hairstyle
Times have passed when we used to wear the low bun hairstyle in its simple and common technique. Now we love to combine it with braids. But the question is whether you choose a fashionable braid for it or not. If you go for the simple braid then say goodbye to it and pick the fishtail instead. It is more beautiful with side bun hairstyles. Just pull all your hair to one side and part into two equal sections. Then braid into a loose fishtail plait and roll it at your neck to achieve a bun hairstyle, finish with bobby pins.
Crown Fishtail Braid Updo
Now so many Hollywood starts rock the crown braid hairstyles and the statistics show that their hairstylists basically choose the fishtail as the crown plait. This modern approach livens up the old-fashioned crown braid and make sit trendy. It is created by the method as the common crown braid and the only difference is the chosen braiding style.
Fishtail Half-Updo Hairstyle
Like the simple bun hairstyles semi-updos are also evolved by braided hairstyles. As everyone knows the simple braiding technique you can amuse your friends with a fishtail plait mixed with your half-updo hairstyles. It is better to get this hairdo on straight or slightly wavy hair to bring out your hair color with all the highlights and tints. Those who have two-tone colored locks will certainly have a flashier result.
Short Hair with Fishtail Braid
What if we have much fun with fishtail braids on our short tresses? Yes, we are tired of the same straight or wavy hairstyles and we want something new and fascinating. Fishtail braid helps us to bring some interest and feminine touch to short bob haircuts. We just braid the top part hair and finish it by side parting. It's both delightful and eye-catching.  
Fishtail Updo Hairstyle
Multiple fishtail braids are other cool ideas for updo hairstyles. Once you add a few thin baby fishtail braids to updo hairstyles they become more attractive and delicate. So, don't forget to create a fishtail updo next time you are getting prepared for date night, prom party or for an evening birthday.
Comments
comments