Give some break to your flat iron and find out easier ways of styling hair beautifully. Who says it's always necessary to straighten hair to look nicer? Natural curls are luxurious and more eye-catching. Instead of damaging your locks with straightening tools and products just pull of some of these cool easy to do hairstyles for curly hair in 2016. Showcase the charm of your natural hair and be more confident with them. We encourage you to take examples from stunning curly-haired celebrities who love the wild prettiness of their curls.
Kyra Sedgwick Loose Curly Updo Hairstyle
While many struggle against their straight hair to achieve this kind of gorgeous updo hairstyles Kyra just captivates us with her cute easy hairdos. This hairstyle is so easy to achieve when you have natural curls. In order to create it you need to take front sections of hair and twist them on the back. Then secure with bobby pins allowing some front curls fall out around your cute face. Continue creating loose twists and secure them on the back part with invisible bobby pins. You can even go for a lose bun hairstyle.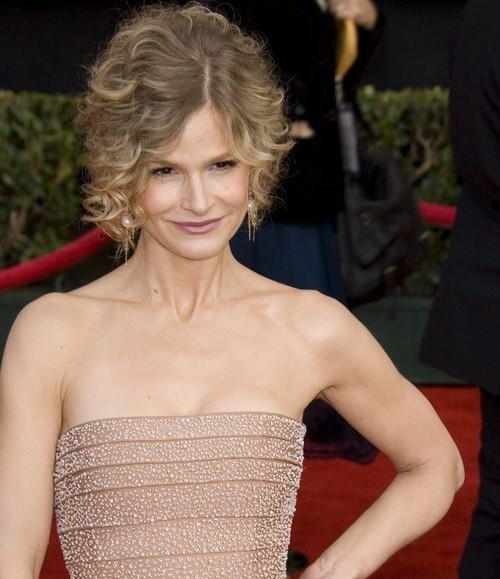 Julia Garner Medium Layered Curly Hairstyle
Need some fresh touch ups? Go for a rounded medium haircut by the help of lots of layers. This hairstyle is pretty but keep in mind that it gives you less hair styling opportunities. So, if you really like it and don't mid to have the same cozy hairstyle day in and day out then opt for it for some period of time. Enjoy this ravishing haircut and change the hair color time to time not to get tired of the same look.
Bernadette Peters Elegant Updo Hairstyle
Bernadette is known with her luscious and pretty curls which make her look so young and girlish. She sometimes styles them into elegant updo hairstyles for special occasions. They are either bun or French twist updos with face framing thin curls. Here you see her in a tight and quite comfy updo hairstyle with loose front strands which soften the look and add highlight the subtleness of the shiny copper curls.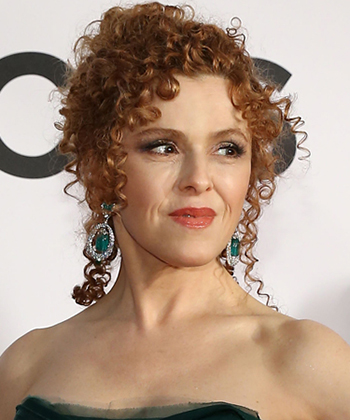 Brandy Norwood Curly Hairstyle
To create a delicate shape for your curls like Brandy request a rounded medium haircut at the salon. It's better to take the photo with you to make sure your hairstylist can provide you with the same result considering also your face shape.as for the styling use curl enhancing products, creams and oils to achieve this delightful fresh curly frizz-free style.
Jordin Sparks Curly Half-Updo Hairstyle
Jordin loves to update her long curly hairstyle with layers and trendy highlights and often wears the super feminine half-updo hairstyles. In order to have a frizz-free and neat half-updo hairstyle you should apply curl cream to your damp hair and dry with a diffuser. Once you are done with the drying run your fingers through the curl to separate them and then pull of a semi-updo hairstyle.
Comments
comments