While many consider blondes as superb feminine ladies many men love mysterious brunettes with their shiny hairstyles. There is a big tendency of keeping hair in natural shades and in spite of the fact that there are many bold hair colors the diversity of brunette tones allures us. Nowadays famous Hollywood stars who have naturally brunet hair go back to their shade and enhance its beauty by some cute highlights. Here you will meet the hottest celebrities in brunet hair colors. I am sure they are going to inspire you to keep your natural brunette shade in all its ravishing hues.
Kendall Jenner Dark Brunette Hair Color
Though the majority of celebs experiment with different hair colors but some, like Kendall Jenner keep their signature style and seldom change their hair colors. Even if they change they still keep them closer to their natural hair color. This is the secret of being so impressive and mysterious.
Selena Gomez Brunette Hair Color
Another stylish Hollywood female is Selena. She likes to rock her dark chocolate brown hair color in various haircuts. Be it short or long she always sparkles in this rick brunette hair color. She always remains with those deep browns which ideally go with her brown eyes.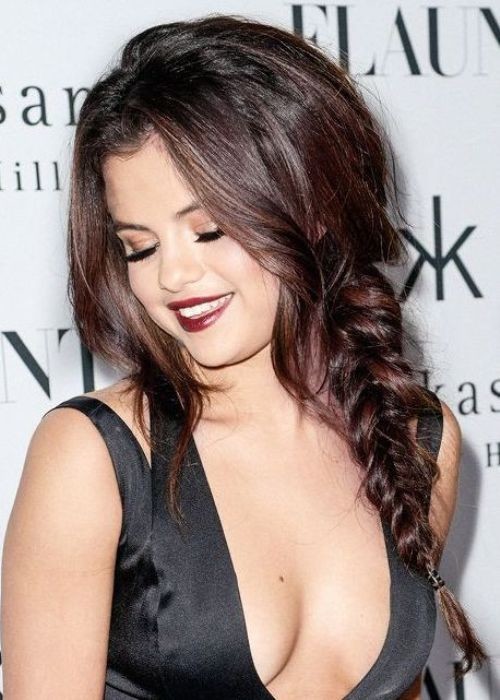 Monica Belluci Brunette Hair Color
Who can deny the fact that Monica is one of the most beautiful brunettes in the world? Her subtle chestnut brown hair colors as well as darker brown shades have always been fantastic with her light skin tone. They complement her dark eyes and bring out her pretty facial features. She is astounding with any hairstyle in brunette hair colors.
Kim Kardashian Brunette Hair Color
Being a natural brunette Kim has experimented even with platinum blonde but each time she changes her shade she comes back to these lovely brunettes. We have seen her in many brunet hair colors from the lightest to the darkest browns. Any shade of brown compliment her skin tone and makes her eyes pop out beautifully.
Jessica Alba Brunette Hair Color
Jessica is a lovely celebrity who wears shiny hair colors. Her light brown, deep espresso or dark and rick ombre hair colors are generally in brunette hair colors. Sometimes they are natural-looking and sometimes shout attention. They complement her tanned skin and work well with dark eye hues.
Jasmine Tookes
We have already discussed one stylish Victoria's Secret's brunette models and now the turn is for another stunning brunette. So, here you see Jasmine Tookes in a rich chocolate brown hair color. Since Jasmine is a black woman her dark hair colors perfectly go with her complexion and eyes. Warm and rich browns are all she needs to place her natural beauty on the top.
Comments
comments