Ombre hair coloring technique is the one of the big trends in the world of fashion. If before many opted for long ombre hairstyles today we see the popularity of short and medium ombre hairstyles. This time we'll refer to medium ombre hairstyles for 2016. Looking at these gorgeous examples you will find a new inspiration for your medium locks. Try to choose the one that works with your skin tone and eye color. Consult with your hair colorist to know which is the best shade for your hair.
Medium Straight Ombre Hairstyle
Sleek, center part and ravishing ombre colored medium hairstyle is a classy one for elegant women. Opt for dark brown roots and combine them with dirty blonde tips to get this stunning result. This hair color combo works with dark skin tone and tends to make your hair look visually longer.
Wavy Medium Ombre Hairstyle
Here we have another dark ombre hairstyle this time on medium length wavy hair. It's a more voluminous hairstyle for crazy parties and for formal occasions. The fresh shades of brown and blonde are beautifully reflected on soft waves. If you like you can go for a cool middle part which will provide your hairstyle with a well-balanced and trendy look.
Medium Blonde Ombre Hairstyle
In case you want to experiment with a lighter ombre hair color choose the blonde ombre. In this case you combine dark ash blonde with light ash blonde shades which are highlighted with sun-kissed yellowish blondes. This hair color works with light skin tones and with light eyes especially green eyes. Again you can opt for the stylish middle part wavy hairstyle. Loose waves will show off the highlights of your blonde hair color.
Medium Dark Ombre Hairstyle
Have a look at this retro inspired hairstyle. Doesn't it look luxurious and glamorous? The fresh dark ombre hair color gifts it a modern touch and makes even more attractive, eye-catching and sophisticated. You can combine it with bold makeup. 
Medium Pastel Ombre Hairstyle
I love the versatility of pastel hair colors which give us so many hair coloring ideas. Each finds the most suitable hair color for her skin tone. So, dark skinned women are welcome to go for purple ombre hair color matching dark purple with lavender purple and women who have light skin tones can go for pink roots and blonde ends creating a subtle ombre hairstyle. The options are many and according to your preferences you can get a unique medium pastel ombre hairstyle.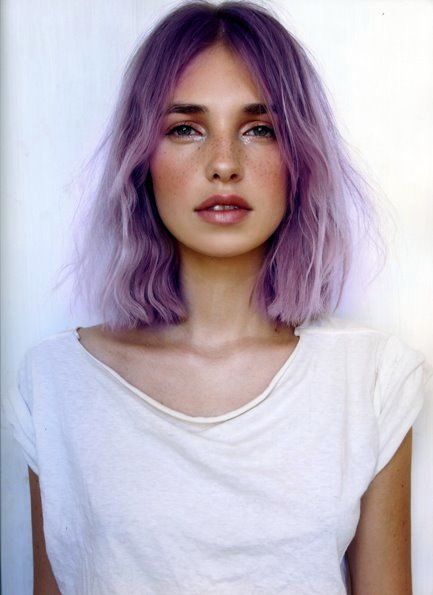 Medium Red Ombre Hairstyle 
Black women who have medium length dark hair can beautify and refresh it with red ombre. All you need is just dying the ends of your hair in a deep red shade.
Comments
comments