Every girl is familiar with various updo hairstyles. Pulling hair up is the easiest way to have hair out of the face and to feel more convenient. However we wear updo hairstyles not only in everyday life but also for formal occasions. I have prepared a special article referring to runway updo hairstyles for 2016 to give you new ideas and a kind of inspiration. These are the latest trendy updos that you can find in the world of fashion.
Crimped Braided Updo Hairstyle
If you have been rocking the loose crimped hairstyles so far now it's the high time to opt for crimped updos. They are so fascinating in braids that you feel as if these two hair styling ideas are created for each other. If you want to look eye-catching for the upcoming wedding party then choose this lovely hairdo. It is elegant and has a girlish, playful touch in it. You can choose any braided style for your crimped hair according to your preferences. There are millions of cool ways to get a nice crimped braided hairstyle.  
Messy Bouffant Updo Hairstyle
Do you want to know why this hairstyle looks so ravishing? It's due to the light blonde hair color which is subtle and can gift you an angelic look. Even the simplest low messy bun can be in a sophisticated and flashy form. So, change your hair color into a light grey, platinum blonde or pastel shade in 2016 and rock your favorite updo hairstyles with great enjoyment.
Low Sleek Bun Hairstyle
Center parted hairstyles are becoming very required. They are special for classy women who like to be in elegant and super neat styles. This hairstyle looks better with subtle makeups and classic outfits. In order to get the sleek and high-shine effect on the top part rub some hair gel and then comb all smoothly before tying a low knot or bun.
Milkmaid Braid Updo Hairstyle
Halo braids have been the trendiest elegant updos for 2015. They continue to capture many hearts with their delicacy and are going to be trendy in 2016 too. You can create milkmaid braids with Dutch, French or fishtail plaits. Whatever you opt for your look will be super feminine and seductive.
Retro Updo Hairstyle
Special for my stylish ladies who run after the retro style I have chosen a glamorous updo. It is both casual and festive, so you are welcome to wear it for different occasions. It is super for business ladies who like fantastic retro classy hairstyles.
Twisted Updo Hairstyle
When it comes to twisted hairstyles we get confused in the variety of options. Twisting hair is so easy and creative. It allows you to go for many hairstyles. In order to have all your locks out of the face and in a tight form you may choose this runway twisted updo hairstyle. It's chic and comfy at the same time. Thus this twisted updo is a good choice for humid days too.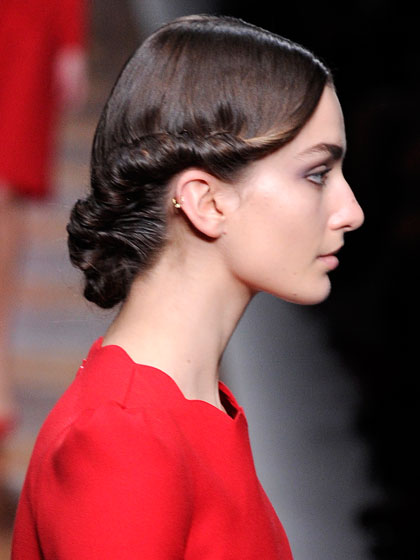 Comments
comments