Pixie hairstyles are not for all since they are meant to for those who have excellent facial features. Pixies prove that you may achieve a sophisticated look without doing too much. Sometimes curly-haired ladies avoid wearing short hairstyles but curly hair type shouldn't be a problem for rocking trendy hairdos. The most important thing is to get the cut in a right way. However you can create various looks with your curls- from subtle to bold. The following examples of smashing pixie haircuts for 2024 are super inspiring.
#1
These retro inspired curls are really timeless; they will never ever go out the trend. To create a look like this you will just need to taper the sides and back while leaving some gorgeous coils on the crowns. You can emphasize your sumptuous curls with the help of hair accessories such as a cute head scarf. The color and the design of the scarf are up to you but you can match it with your outfit.
#2
The strands on this design are not as shorter as the traditional pixie cuts. It can be a great choice for women who want to go for a trendy short cut without losing too many strands. Well, this particular style requires chopping off the locks for some texture and then adding a beautiful honey brown shade. To finish the style, create a simple side part with the help of your fingers.
#3
Many of you looking at this style will be tempted by the messy pixie. So, follow this example and chop your full bangs for some texture and style by making them slightly messy. The color is super natural but it is still super compelling and admirable. However this pixie is super elegant and it proves that you don't have to go bold with your short strands.
#4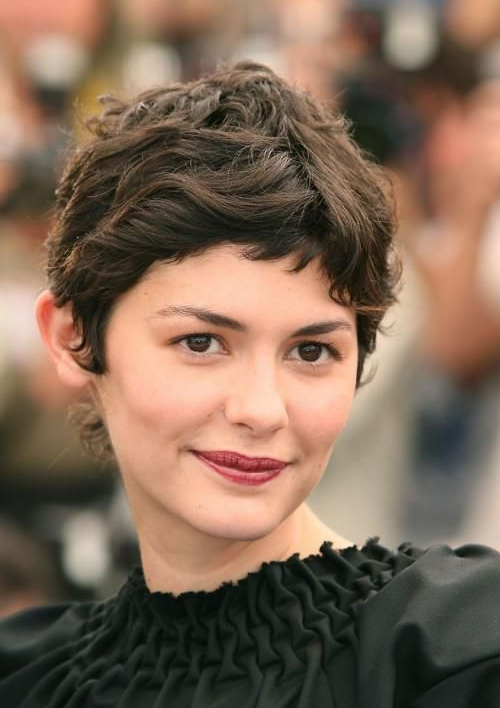 The elegance and modern twist of this hairstyles gives it a complicated look but you don't have to do much to achieve a look like this. Before creating the style you will need to give your strands a soft blonde shade then taper the sides and the back. The only thing you need to do is to style the bangs on the crown by layering them slightly. This look is all about a right cut.
#5
Any women with natural curls will not have troubles while creating this look because it is super easy. The curls on this deign have a fantastic pixie cut that also reminds us of a gorgeous bob cut. Apart from the cut and styling, the hair color is also amazing. It involves a shiny golden hue that creates a contrast with dark shade.
#6
#7
#8
#9
#10
#11
#12
#13
#14