Well, nowadays there are so many Senegalese twisted styles to choose from because modern women prefer to wear these protective hairstyles rather than opting for chemicals or hot tools that will definitely damage the strands. You can have these gorgeous twists as addition to many other hairdos. Whenever you feel like giving your strands break from harsh chemicals or heating tools consider these incredible Senegalese twist styles for 2022. Keep in your mind that you can rock these twists in various styles. It is a way to stand out of the crowd.
Side Ponytail
Most of ladies prefer to pull their twists back or tie them into a simple yet attractive ponytail. This model has chosen to wear a twisted ponytail. This styling option is pretty common but you can personalize it by pushing your pony to the side. The strategy of creating it is the same as the usual ponytail. However it can be perfectly matched with your casual outfit.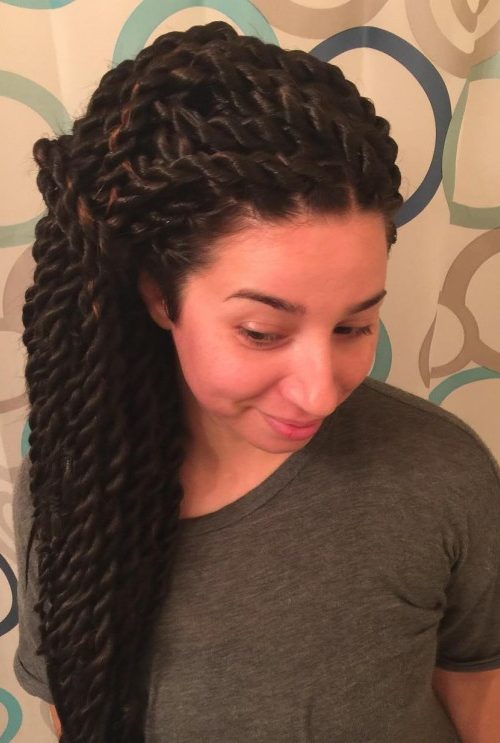 Twist Into a Knot
Braids are not just a protective style since they can make your look stunning and outstanding. This particular is just unique that have been neatly waved and designed with half a pony at the back and a classic at the top. The black shade of the twist also stuns. It works well with the wearer's chocolate skin complexion. It is a style that can be created within five minutes.
Braided Ponytail
Braided ponytails are not unique anymore but they make a stylish hairdo particularly when you wear them correctly. This style creates an attractive look that starts with a few braids that start as cornrows. The cornrows from different direction are designed to end at the center of the head where they should be tied into a ponytail using a couple of braids. It is a popular style particularly among black women.
Senegalese Twists
Senegalese twists are super versatile and these chunky strands prove this beyond any doubt. To replicate this design you will need to opt for curly extensions and you need also to have some braiding skills. Styling them is super easy, since you just need to create a soft side part and push them to the side to create a gorgeous face-framing design. It is a style to draw attention.
Trendy Twist
The Senegalese twists created at the front section of the hairdo are just sparkling. It is a top notch design that gives a classic touch to the wearer. This hair length is fantastic for all ladies who are fascinated with extra-long strands. These twists are not only trendy but also straightforward.