Nowadays women prefer to spice up their haircut with short bangs. Be that chin-length, medium-length or long haircut with short bangs you are going to stand out of the crowd. There are some women who want to cover their forehead but they don't want to be annoyed by long bangs, well, short bangs are always there to bring out only the best of your face features.If you are ready to change your long irritating bangs with short and trendy fringe then have a look at the following subtle short bangs haircuts for 2023 which we have selected to inspire you.
#1 Short Bob With Wispy Bangs
Bold yet sexy short bangs combined with short haircuts are mind-blowing.    Below you can see a layered bowl haircut with short bangs. Since short bangs highlight eyebrows you should always keep them groomed and styles. This haircut refers to all strong women who are open-minded and ready to experiment with their locks.
#2 Chin-Length Hairstyle with Short Bangs
The length of your hair is not really important because short bangs are suitable for all hair lengths. If you have round face shapes then this chin-length hairstyle with short bangs is going to work well with your face features. Keep your short bangs edgy and sharp. Since this hairstyle is too short it will keep the focus on your cheekbones and eyebrows.
#3 Bob by Asian Women
Asian women rock short bangs differently. Here you can see a creative bob haircut with short bangs. Colored eyebrows and purple ombre grab attention. It is a creative approach toward this hairstyle. If you are brave enough to color your eyebrows into purple then adopt this contemporary look.
#4 Retro Inspired Long Hairstyle
The majority of retro hairstyles are combined with short bangs. Below you can see a vintage do styled with a modern twist. To get this eye-catching hairstyle you should have proper face features for this reason we highly recommend you to consult with your hair dresser before cutting your long bangs off.
#5 Bob Haircut with Short Bangs
It is not necessary to opt for full and thick bangs. Thin side swept bangs look cool with messy and curly bob haircut as well. This hairstyle is pretty popular nowadays, so feel free to chop off your long locks into a trendy bob haircut combined with thin short bangs.
#6 Short Bangs by Afro-American Women
Afro-American women equally rock short bangs haircuts. Here you can see a pixie haircut with short bangs. This marvelous hairstyle suits with her face features. Consider your face shapes before adopting this look.
#7 Shag With Thick Bangs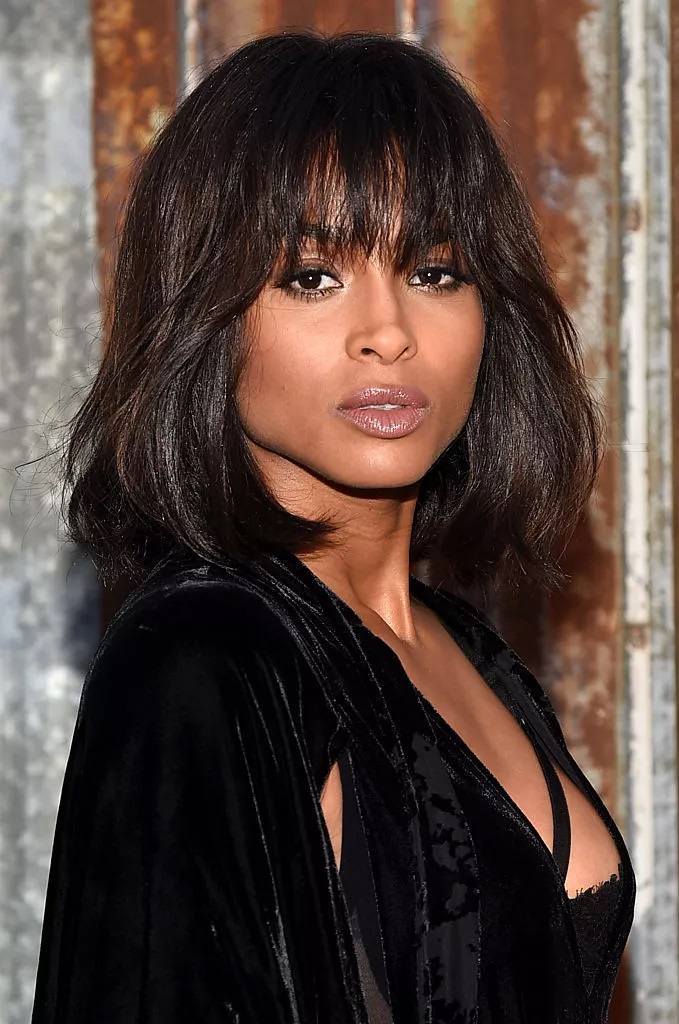 #8 Shaggy Lob
#9 Curly Crop With Bangs
#10 Stick-Straight