Relaxed and loose hair is all about versatility. It gives us so many ideas on how to style locks in fashionable ways. We look at the options that Hollywood stars choose for their tresses and pick the most beautiful hairstyles for our hair. Smart and professional hairdressers always offer the latest trends, innovative ideas and creative solutions.  Get inspired by this collection of 2023 relaxed hairstyles.
#1 Bob Cut Is Here To Stay
View this post on Instagram
Brush all hair to one side and create a low ponytail hairstyle with a simple elastic. If you locks are unruly then rub some hair cream from the top to the tips before combing. You can either leave the tips in a straight and sleek style or can tease a bit for a more playful effect. This hairstyle is both easy and quick for casual days!
#2 Natural Cult Curls
View this post on Instagram
Natural Cult Curls are usually in relaxed forms. They are worn on casual days as well as for special occasions. If you want to keep your long and luscious hairstyle in a fascinating look then opt for big waves. Curl hair into tight curls by any tool or machine and then run fingers through the curls to create big waves. You can even brush your curly hairstyle in order to get the voluminous and lovely big waves. As finishing touch spray hair spray.
#3 Short Side Parted Hairstyle
If you have short and unruly hair and need to keep it under control especially during windy days then side parting is for you. It is quite easy to achieve on short locks than on longer haircuts. You can get it by applying hair gel, cream or high-shine wax on your locks from the top part to the tips. Then comb to one side. The final effect is either a messy side parted hairstyle or a sleek and wet-looking side hairdo. Both are trendy and very required these days.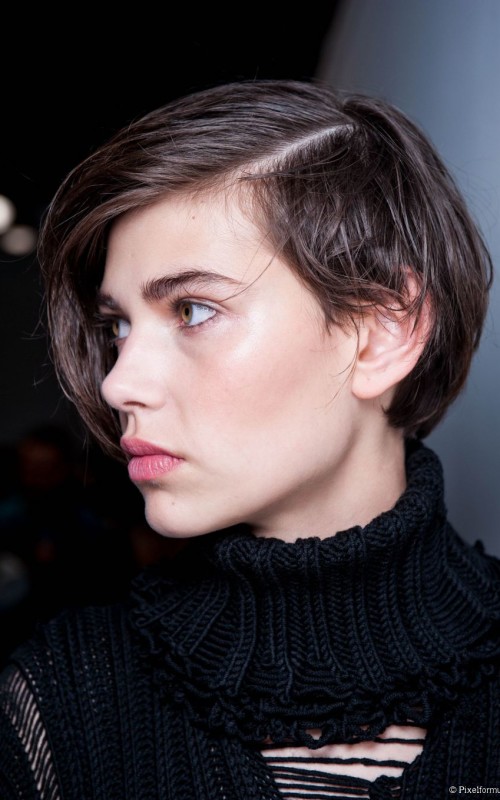 #4 Slicked Back Hairstyle
As for medium and long haircuts slicked back is great relaxed hairstyle. It is created by teasing the top part hair. Then applying hair products and combing all back. You should first of all focus on the crown part hair and the pass on to the tips. The ends of this hairstyle can be in straight or wavy styles according to your preferences.
#5 Low Ponytails
View this post on Instagram
Are you tired of the sleek and tight updo hairstyles? Try the relaxed, loose and wavy texturized updo hairstyle. It can be achieve by hair diffusor which provide the voluminous curls. They are gathered into an half updo hairstyle and look bait messy. This messiness is the most important about relaxed updo hairstyles.
#6 Bowl Cut
View this post on Instagram
Another way to create a relaxed hairstyle is using the twisting technique. You rub hair cream or mousse on hair and twist side strands into tight and comfy twists. Then pin them on the back part styling a half updo hairdo.
#7 Undercut Pixie
View this post on Instagram