Are you willing to change your hair frequently? So, follow celebrities, since they like to go for the craziest hair colors. Waking up every morning you can find a freshly dyed famous scalp. However, nothing surprises us anymore, since we have already managed to see the most incredible hair hues. Today I have selected the latest celebrities' hair colors for 2022. No need to go far since you can find your next hair makeover inspiration among these celebs.
Kylie Jenner Rose Gold Shade
We have definitely never thought that Kylie would stay in platinum blonde shade forever, since she likes to impress with her new makeovers. Literally several days ago she showed off her subtle rose gold hair. First time, Kylie represented the color on famous app, known as Instagram. We can just add that we are totally in love with her airy and ethereal rose gold hair. Pale pink perfectly works with Kylie's skin complexion.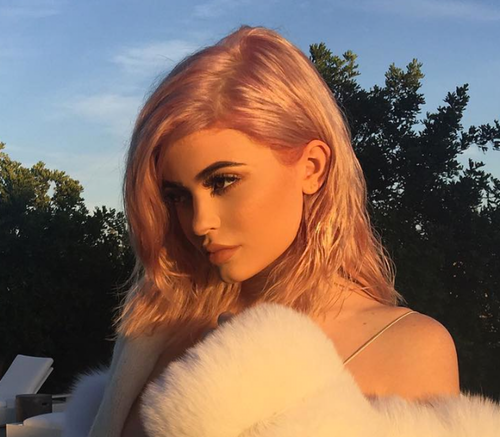 Amanda Seyfried Brunette Bob
No one expected to see blonde Amanda with brunette bob and bangs. But this style is required for a movie Anon. Probably she is using periwig but no one can reject that she is just amazing. Brunette hair makes her incredible eye color pop up and the choppy cut and bangs beautifully frame her face. Somehow it is even difficult to recognize Amanda Seyfried.
Sophie Turner Platinum Blonde
The popular actress of "The Game of Thrones" Sophie Turner has decided to change her copper-haired look into chic platinum blonde. She posted her blonde-haired picture on Instagram and it immediately got popularity. However platinum blonde strands work really well with her pale skin complexion and blue eyes. However the transition from copper to platinum blonde has been successfully achieved.
Dakota Johnson Honey Blonde Highlights
Dakota Johnson upgraded her brunette strands with honey blonde highlights. These smart highlights perfectly brightening up her overall look and grace her with subtle and smooth strands. It seems shoulder-gazing haircuts are the best option for Dakota since we can spot her rocking a mid-length cut pretty often. No doubt, she is incredible!
Elle Fanning Pink Hair
From neon to pink panther! Fanning continues to impress us with her incredible hair colors. It is hard to decide which shade suits her most since all of them are unique and feminine. Antique pink hue flatters her pale skin tone and beautifully highlights her green eye color. So consider this shade for your new makeover too.