Cool Hairstyle Inspiration from Nicole Kidman for 2022
In spite of the fact that our lovely redhead Nicole Kidman has gone for light blonde shades we are still admired by her ravishing hairstyles in different sun-kissed hair colors. This seductive lady with light skin tone and light blue eyes knows how to highlight the charm of her healthy and thick hair in trendy hairstyles. Her copper red, strawberry blonde and lighter blonde hairstyles are all on the top lists of fancy hairdos for 2022. The girlish braids and stunning updo hairstyles are the loveliest hairdos for date nights and prom parties. Since she has millions of gorgeous hairstyles here we have collected the most inspiring and fashionable options that you can copy in 2022. So, have a look at the prettiest hairstyles of Nicole Kidman to try in 2022.Nicole Kidman Long Copper Red Layered Waves
Having naturally wavy hair Nicole Kidman used to refresh them with trendy layered haircuts. These voluminous full waves are more than attractive on the lavishing copper red hair color which ideally goes with her complexion. Though the hairstyle is an easy to do one for naturally wavy locks but it is dressy and quite engaging. Women who have straight hair can achieve the same look by curling their locks section by section into loose waves.
Nicole Kidman Braided Hairstyle
We often see Nicole in girlish braided hairstyles which are so simple yet sophisticated. Her lovely thick hair allows her to look astounding even simple side braids which she combined with long messy side parted bangs.  The natural effect is so touchable in her braided hairstyles that it seems as if she styles these hairdos in a few minutes. They highlight her cuteness.
Nicole Kidman Elegant Updo Hairstyles
The updo hairstyles that Nicole Kidman prefers are always elegant and neat even in messy styles. She look so feminine and ritzy in any updo hairstyle she wears. They are generally combined with subtle natural-looking makeups and tender dresses. In the following updos she looks like a real queen who rocks the night.
Nicole Kidman Light Blonde Bombshell Waves
At the Omega De Ville Prestige Butterfly launch in Korea Nicole was in a fresh and delicate light blonde hair color which she had styled into exquisite bombshell waves. Many didn't recognize her from the first glace as the new hair color really took her posh look to the next level.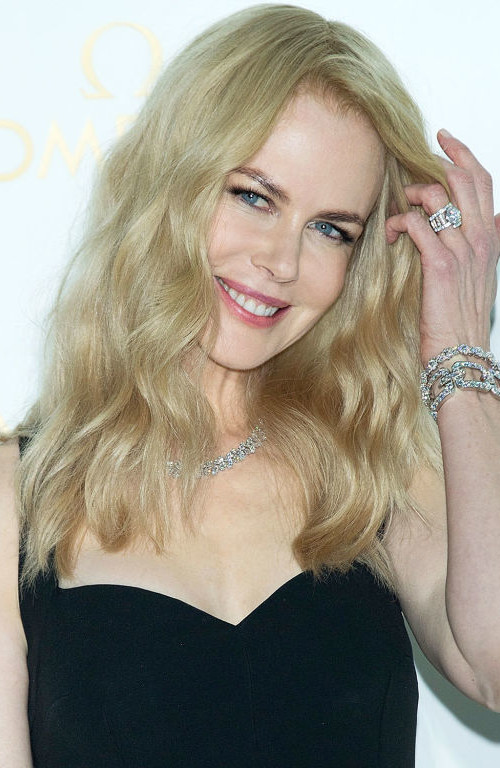 Nicole Kidman Sleek Medium Hairstyle
Shoulder-length haircuts suit Nicole as much as the long styles. They are classy in straight and sleek styles which showcase the shine of her blonde hair. Perhaps this is one of her best straight hairstyles that look perfect and neat with the center parting and the front strands tucked behind the ears.