The hairstyle and hair color makeover through which the gorgeous model, songwriter and award-winning rapper Iggy Azalea has undergone is lately one of the most discussed themes in the fashion world. Everyone is conscious about her stunning shades and medium to long hairstyles. While some think that she has become unrecognizable we are admired by the most delightful hairstyles and hues that she has rocked during the recent years. So, be inspired by Iggy Azalea's stylish hairstyles for 2021.Iggy Azalea Long Sleek Ponytail Hairstyle
The high and sleek ponytail hairstyles are in thing this year and they are more beautiful with braided combinations. The faux hawk braid which many use with their downdo hairstyles is seen with a tight ponytail on Iggy's long shiny, sleek golden blonde hair.
How to Style: First start by flat ironing hair from the top to the tips. Then braid the top part hair into a tight French plait and mix it with a high ponytail. Before tying the pony rub hair cream to keep control over fly-away strands.
Iggy Azalea Platinum Blonde Retro Hairstyle
Well, this one is a cool and pure retro inspired hairstyle with the matching makeup. The shiny platinum blonde is so subtle on the loose wavy hairstyle. It is a prom-ready hairdo for light-skinned ladies.
How to Style: Once you are done with the hair color pass on to styling. Start with dry hair. Rub hair protective pomade and curl into loose finger waves from the top to the tips. If you like you can pull a huge part of your hair to one side along with the bangs. Fix the look with hair spray.
Iggy Azalea Medium Curly Hairstyle
It seems as if Iggy is a natural curly-haired lady in this stunning festive hairstyle. These are spiral curls created on layered hair. You can choose this style for the upcoming festivals, holidays or for your birthday party.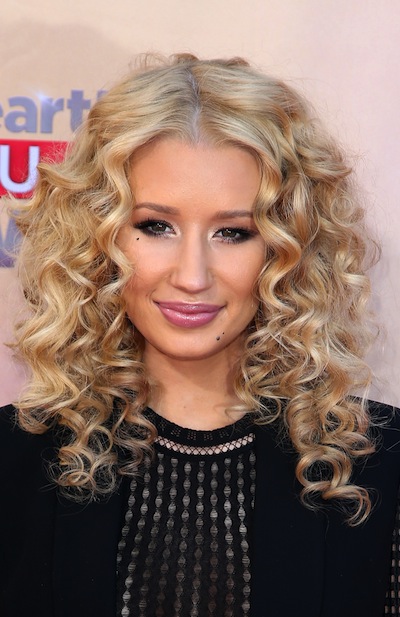 How to Style: If you have straight hair probably you may go for chemicals to achieve this hairdo. It is a voluminous curly style better for layered hair. Make sure you have protected your locks beforehand as chemicals can damage the ends and can make your hair thinner. Refer to a professional hairstylist.
Iggy Azalea Medium Beach Waves with Dip Dyed Tips
One of the most original hairstyles that we have seen in the fashion world was the represented medium hairstyle with dip-dyed tips. Once Iggy deputed it many young girls were found their real inspiration. The pretty blonde shade combined with pastel pink tips is a youthful and playful hairstyle with the trendy beach waves. The effect is glamorous.
Iggy Azalea Coral Hair Color
And finally here is her recent hair color with a bright and eye-catching touch in it. It is a vibrant coral hair color on soft high bun hairstyle. Among so many hair colors that she has chosen for her tresses this one is just unique and unrepeatable. It goes with her light complexion and makes her look like a cute doll.