Today I am going to speak about admirable grey shade. It is not a secret that 50 shade of grey are in trend and the best way to look fashionable is to find right hairstyles for this natural but at the same time bold hair color. We all are going to experience gray shade. Maybe several years ago we wouldn't like it to happen soon but nowadays many of us harry to get this grey hair color. Well, I should admit that this color got popularity among both genders. Thus, if you are seeking for hairstyles in order to upgrade your grey shade and feel more confident then go on reading because I have gathered coolest grey hairstyles for 2023.
#1 Grey Updo with Short Bangs
All gray hairstyles are pretty eye-catching. Try to opt for a modern haircut in order to keep your shade in a style. Here we are suggesting you to chop off your long bangs into short ones. It will accentuate your face features and highlight beautifully styled eyebrows. Whatever your vibe is, you can always opt for trendy 'dos. Try to wear an updo with short bangs and you will see the efficiency of grey shade on your hair.
#2 Grey Ombre Waves
We are going to introduce the most vibrant and glorious shades into your life. If you are tired of a monotone silver or grey hair color, then we offer you to go for ombre, it is the best way to create a mermaid look that all girls dream. The ombre hue is based on your grey shade. To be accurate in your choice we highly recommend you to consult with your hairdresser.
#3 Glorious Curls
The look of hairstyle is connected with the shade, cut, you complexion and your nature. Don't be surprised seeing that the same hairstyle is pretty differing on various personalities. Curly is the next luscious hairstyle for grey shade. If you have thick hair then it will take some time to get these waves. It is the best way to show off your healthy and long locks.
#4 Braided Hairstyle
Be that a simple side braid or thick fishtail, you are going to grab attention. This hairstyle is also mind-blowing on grey shade. Ladies are so ethereal with this color, as fairies. Grey hair color requires regular touchups so, in order to keep it fresh and out of fading visit hair salons pretty often.
#5 Grey Shade on Short Hair
We shouldn't let ladies with short haircut feel frustrated because grey shade is going to work with their short locks too. Style your medium-length or chin-length hair into a beachy waves and it will not have a simple look at all.
#6: Ombre Flair
View this post on Instagram
#7 Retro Blend
View this post on Instagram
#8 Blue Gray Madness
View this post on Instagram
#9 Gothic Gray
View this post on Instagram
#10 Silver Streaks
View this post on Instagram
#11 Curly Grey Highlights
View this post on Instagram
#12 Short Grey Hair
View this post on Instagram
#13 Over 50 Style
View this post on Instagram
It's not just lighting that impacts how our silvers look in images, backgrounds can have a huge impact (especially the way white hairs reflect the colours of their environment). These were both captured on the iPhone which tends to compensate for the background by increasing or decreasing the metering on the foreground subject. If you don't already know, you can use your finger on the touch screen to reduce or increase the exposure before you click.
#14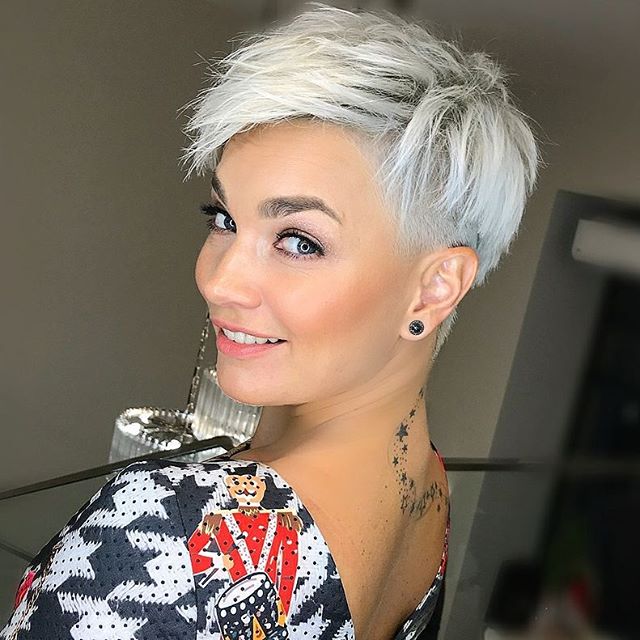 #15