The darker your hair color the richer it looks in its shades. Actually women who have thin hair usually opt for dark hair colors to add depth and dimension to their hairstyles. As for the trendy dark red hair colors for 2022 there are really deep and sophisticated shades which are ready to highlight your seductive and mysterious nature. These are not the artificial and unnatural red hair colors that we have in the hair color pallet. They are the most astounding reds of all the other red hues. Let's check them out together!Reddish Brown Hair Color
The most natural-looking red hair color in the fashion industry is the reddish brown. It is medium shade among browns and reds and tends to keep your hair shiny, healthy and natural. Reddish brown hair colors best go with medium to dark complexions and compliment brown eyes. This hair color is suitable for natural brunettes and redheads. As for the haircuts keep it long or mid-length to showcase the charm of your tresses.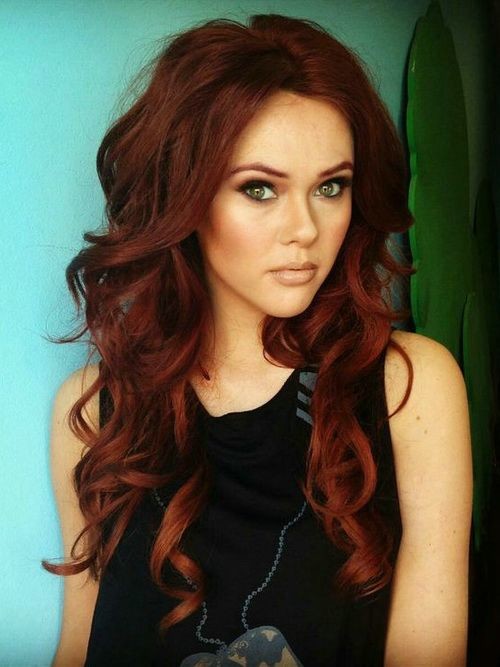 Burgundy Hair Color
The wine-y hue of red is called burgundy color. This is a stronger and more powerful red hair color to match with light and dark complexions. It is perfect with dark eyes but can ideally bring out hazel and lighter eye hues. Burgundy red hair color requires regular touch ups to keep its ravishing ad fresh effect. It is also important to use hair color protective shampoo and conditioner special for dark red hair.
Mahogany Red Hair Color
There is a wood-y shade of red called mahogany red. Now we see it as a dark red hair color which works with cool skin tones that have pinkish undertones and compliments darker complexions. Mahogany red is great shade when you need something in between. It provides your hair with a soft and subtle elegance and allows you to be more stylish. This hair color compliments brown eyes but looks beautiful with darker and hazel hues too.  
Dark Fiery Red Hair Color
Do you want to stand out from the crowd due to a flashy hair color? While others are admired by the unnatural fiery red there is dark fiery red hair color for you. It is stoning especially on short pixie haircuts and is worn by many black women. Whereas dark fiery red goes with most ski tones and eye hues. Its vibrant tons grab attention and keep all eyes on the fresh and glossy effect of the hairstyle.
Marsala Hair Color
Marsala is the most popular red hair color that we see in 2022. Many fall in live with the mysterious, hot and luxurious refection of the Marsala red hair color. It another wine-y shade ready to transform your dull hairstyle into a glamorous and fascinating one. It creates an incredible combination with light skin tones and dark eyes.