Being 60 doesn't mean to go for boring and out-dated hairstyles. In every stage of your life you should know how to keep your look beautiful and interesting.
#1
Well, most women over 60 have already had their unique styles and they know how to demonstrate their looks in the best way, but even in this case a switch up wouldn't bother at all. Everyone needs changes from time to time and a new cut is the best way to have new feelings and emotions.
#2
Keep in your mind that it is not necessary to choose something that is in mainstream but to pick up something that flatters your complexion is must. Go on reading to see some cool hairstyles for women over 60!
#3
Well, with a hairstyle like this you will not have a look of retired grandma. Tousled platinum blonde locks take several years out of her face while giving her younger look. If you have a young spirit and the age is just numbers for you then this hairstyle is definitely for you. Recreate it and you will rock.
#4
Well, if you have round face shapes, avoid wearing blunt haircuts because they tend to highlight the widest part of the face. Try to pick a hairstyle that will elongate your face. Here is an excellent half up half down hairstyle for women over 60. Everything about this style is just perfect- length, curls bangs. Note that the bangs cover the wide forehead making the face appear longer.
#5
Low-maintenance haircuts and hairstyles are always in demand. So this medium haircut with layers will definitely be the best option for you. You can wear it in an updo style, or loose. You don't have to color your locks either but you can embrace your natural grey strands and that's more than enough.
#6
Who said you have to hide your grey hair behind boring and monotone hues when pastels are totally in trend. Use a lavender hair color to conceal your grey hair and make your look even more interesting and creative. Lavender hues are easy to apply on natural grey hue since you don't have go for bleaching.
#7
Here we have something more formal for older ladies who are invited to a wedding party or any other special event. French twist works for any occasion and you can create it by your own to without going to the salon. A bouffant is the most important part of this hairstyle.
#8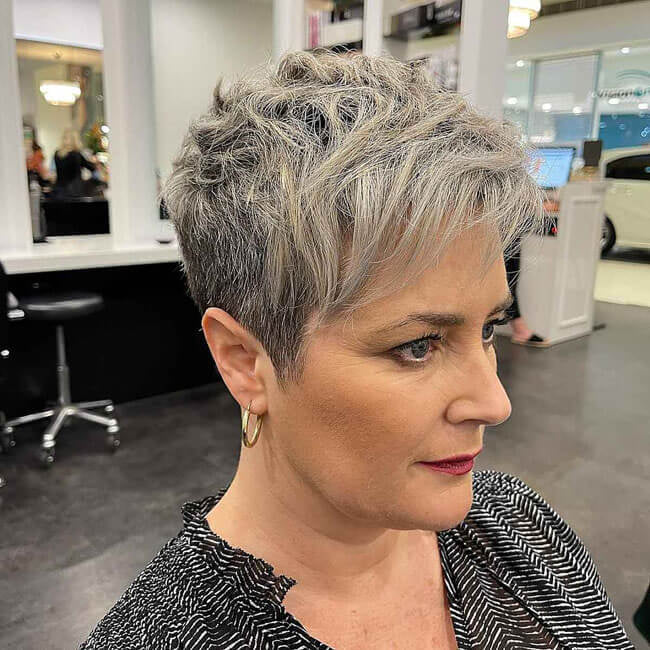 It will help to add volume on the crown covering thin hair. You can achieve your desired volume by teasing your locks.
#9