Be it long or short ombre is the most creative hair coloring idea for hair. Among the rest of the coloring techniques it is the most popular one for 2024 and continues to be on the top lists of the most required hair coloring methods all over the world. While many consider it a cool hair dying idea for long hair but the latest experiments prove that it's possible to create bob ombre hairstyles too. So, some of the prettiest and trendy long bob hairstyles for 2024 are represented below. Have a look at them and be inspired.
#1 Long Classy Bob in Ombre Hair Color
Dark ombre hair colors with straight long bob haircuts provide us with a classic and neat hairstyle. As ombre is a unique and delightful style itself it is ready to beautify any long bob haircut. Even without additional styling your hair will look stylish, festive and glamorous. The warm and shiny touch on the tips tend to make your hair look visually longer. So, it's great to keep the roots dark and focus on the tips.
#2 Long Wavy Bob in Ombre Hair Color
Messy, wavy and shaggy bob hairstyles are always soft in ombre hair colors as the final effects bring a kind of delicate and girlish breaths. Due to the versatility of wavy hairstyles bobs in ombre shades look different each time you style. Subtle, thin and natural-looking beach waves as well as finger and big waves are the best hairstyles for long ombre bob haircut. You can wear such sophisticated hairstyles for special occasions and formal events.
#3 Long Curly Bob in Ombre Hair Color
Rare are cases when we meet naturally curly short haircuts but the ones that exist bring out all the attractiveness of cute curls. One of them is Beyonc?'s lob haircut in ombre hair color. As her hair is naturally curly, messy and voluminous he light ombre hair color with dark roots helps to get a softer and tenderer effect. It makes her look younger and more inspiring.
#4 Long Bob in Red Ombre Hair Color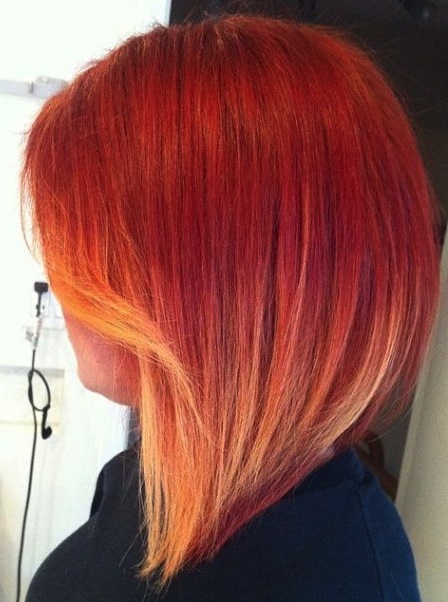 Those who look for a more eye-catching ombre hair color as they have tried out many versions of ombre may go for the red ombre style. Unlike natural-looking ombres dark and light reds make you stand out from the crowd. They are unusual and original especially on trendy lob haircuts. Both straight and wavy hairstyles compliment the freshness and the charm of red ombres. Women with dark hair can go for black to red ombre while ladies in lighter base hair colors can opt for dark red roots and light red tips.
#5 Layered Bob Haircut
#6 Bob Haircut with Straight Bangs
#7 Asymmetrical Bob Haircut
#8 Medium Bob Haircut
#9 Wavy Bob Haircut
#10 Blonde Bob
#11 Long Bob Hair
#12 Classy Bob Haircut
#13 Lob With Layers
#14 Medium Blonde Bob
#15