Ash blonde hairstyles have become increasingly popular in recent years, as more and more women seek out this beautiful, versatile hair color. This hair color is characterized by its pale, cool-toned blonde shade, which is reminiscent of the color of ash.
One of the main benefits of ash blonde hair is that it looks great on almost any skin tone. Whether you have fair, medium, or dark skin, there is an ash blonde shade that will flatter your complexion. Additionally, ash blonde hair can be worn in a variety of different styles, from straight and sleek to loose waves or voluminous curls.
One popular way to wear ash blonde hair is in a bob or lob (long bob) hairstyle. A choppy, textured bob with wispy layers is a great way to add movement and dimension to ash blonde hair. This style works well for those with fine hair, as the layers can help create the illusion of thicker, more voluminous hair.
For those who prefer longer hair, ash blonde can be worn in loose waves or soft curls. This style is great for adding texture and volume to long hair, while still maintaining a natural, effortless look. To achieve this style, use a curling iron or wand to create loose, beachy waves, and then run your fingers through your hair to loosen them up.
If you prefer a more dramatic look, ash blonde can also be worn in a sleek, straight style. This look works well for those with naturally straight hair, as well as those who use a straightening iron to achieve the look. To keep your hair looking smooth and shiny, be sure to use a heat protectant spray before using a straightener, and finish off with a light hairspray to hold your style in place.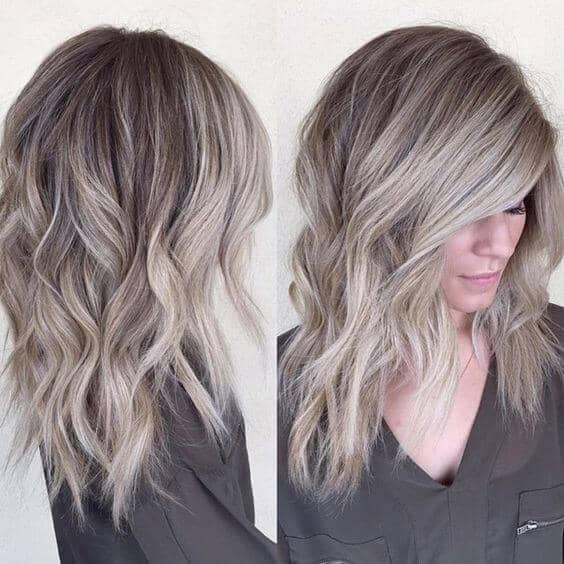 Another way to wear ash blonde hair is in a braided hairstyle. Whether you opt for a simple, single braid or a more intricate braided updo, ash blonde hair looks great in a variety of braided styles. This is a great option for those who want to keep their hair out of their face while still looking stylish and put together.
No matter what style you choose, it's important to take good care of your ash blonde hair to keep it looking its best. Because ash blonde hair is naturally cooler in tone, it can be more prone to brassiness or yellowing over time. To combat this, be sure to use a purple shampoo and conditioner to neutralize any unwanted warm tones in your hair.
Additionally, because ash blonde hair is often achieved through a process of lightening or bleaching, it's important to take extra care to keep your hair healthy and strong. This means using a deep conditioning treatment regularly, as well as avoiding excessive heat styling or chemical treatments.
In conclusion, ash blonde hairstyles are a versatile and beautiful option for anyone looking to switch up their hair color. Whether you prefer a short, choppy bob or long, flowing waves, ash blonde hair can be worn in a variety of styles to suit your individual preferences and needs. With proper care and maintenance, ash blonde hair can be a stunning and eye-catching choice for anyone looking to make a statement with their hair.