Perhaps you may think center parted hairstyles are the simplest trends for 2022. Yes, they are, because any girl has opted for this style for many times in her life. If you have medium to long hair then you are a bearer of center part hairdos time to time. But now this is more stylish and you can rock it for formal occasions too. Look at the following popular center parted hairstyles for 2022.
Center Parted Lob Hairstyle
Medium bob haircuts are very subtle either in side or center parted forms. They look better in wavy styles which give your hair more charm. So, in case you have a trendy lob haircut you can go for relaxed waves and center part your hairstyle. Even in shaggy forms it looks glamorous and neat.  
Center Parted Bun Hairstyle
Classy women will surely love this brand new bun. It's a sleek center parted bun sometimes in wet-looking styles. This hairdo looks very attractive with bold makeups as it brings out your facial features.
Long Layered Center Parted Hairstyle
It's not a secret that layered cuts create engaging face frames for any face shape. But what if you go for equally parted look? If you have fresh ombre hair color it will enhance its beauty. Besides, you get a classier look.
Long Wet-Looking Center Parted Hairstyle
Stylish models appear on catwalks with wet-looking hairstyles. Why not try this style for 2022? It is already loved by some gorgeous Hollywood starts who combine it with center parting to have a sleeker and classier hairstyle.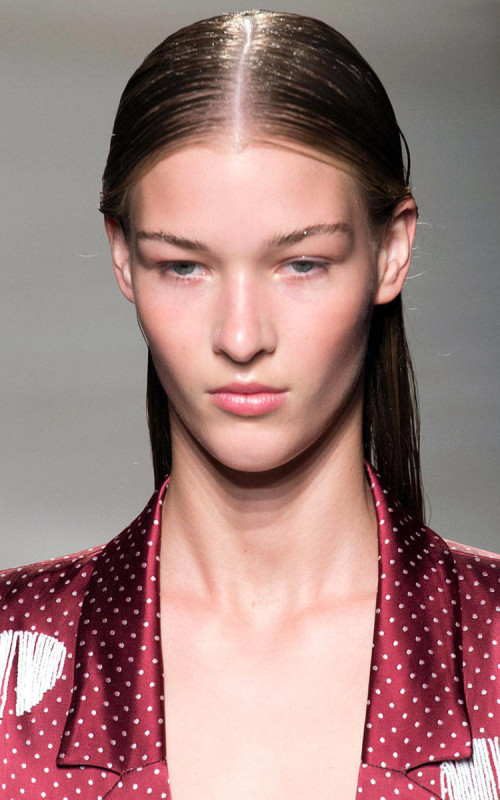 Center Parted Hairstyle with Dark Roots
It goes without saying that the perfect hairstyle to bring out dark roots is the center parted hairstyle. Your light hair color along with fresh dark roots can look ideal only in this style. No mater it's curly or straight, your dark roots will be best reflected if they are center parted.  
Center Parted Low Ponytail Hairstyle
Here sleek and tight top part meets messy and curly contrast at the ends. Actually center parted ponytails are very elegant and comfy for long hair but in case you want to break down its sleekness you can keep the ends messy and curly. The gel applied on the top part will bring out your astounding shiny shade. So, give it a try whenever you need an elegant, sophisticated and more attractive look.