2021 Bang Haircuts for Long Hair
Full Bangs for Straight Hair
Textured full nags are great with long straight haircuts. They make you look younger and more playful. Fine hair can become full-looking with textured bangs. They work with large foreheads and long face shapes. Full heavy bangs can be styled into straight and shaggy styles.
Long Straight Bangs for Long Hair
Like the previous one long straight bangs go with large foreheads and long face shapes. They work well with thick hair and provide you with a youthful look. You can sport long straight bangs with your long straight hairstyles. They are very neat and clean-looking.
Long Layered Bangs for Long Hair
The majority of bang styles for long hair are in long shapes as they create the desired well-balanced effect. Women who have layered haircuts can complete their scrumptious hairstyle with long layered bangs. They are side swept or center parted bangs which frame the face gracefully. You are welcome to blend them with the rest of your front layered cuts to create a harmonious and more ravishing effect.
Blunt Bangs for Long Hair
As for blunt bangs they best go with long straight hair without additional touches. This hairstyle is beautiful just in its simplicity. However it allows you to go for curly styles for special events. You can rock the bangs in blunt, smooth, shaggy and straight forms while the rest of hair can be styled in a variety of trendy hairstyles.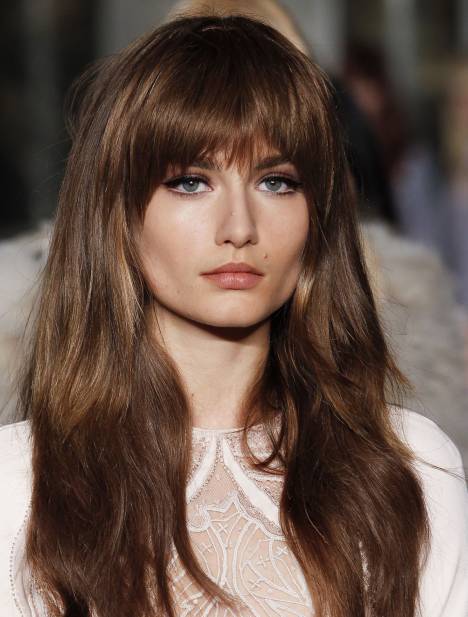 Before choosing any bang haircut consult with your hairstylist to make the right choice. It's quite essential to wear the style which compliments your face shape. Keep in mind that even a simplest bang style can totally change your facial expression and look.
TO READ MORE, GO TO THE NEXT PAGE