If you are looking for party hairstyle ideas for your medium hair then you are in the right place. Check out these prom medium hairstyles for 2022. Find your source of inspiration and style your hair in trendy and glamorous styles for special occasions. We offer you the latest trends and give you many more hair styling ideas.
Medium Retro Curls
Do you like the stunning retro curly hairstyles? Now they are in style and are worn by the majority of celebrities who have medium haircuts. These curls are generally achieved on fresh and shiny hair and tend to highlight your feminine. If you like you can tease the top part for extra volume and glam touch. Medium vintage curly hairstyles are fabulous festive hairdos.
Medium Festive Half Updo Hairstyle
You have a cool mid-length hair with long bangs. That's great because what I am going to represent you is a gorgeous half updo hairstyle for medium hair. It's a lovely wavy hairdo with side pinned bangs, you can also secure your bangs combing them back if your face shapes requires another stylish solution for bangs. Try to keep the top part a bit voluminous.
Medium Side Parted Curly Hairstyle
Lately we see many Hollywood stars in side parted curly hairstyles. Here we again feel the touch of the inspiring retro style. They generally combine their side parted curly hairstyles with retro makeups for seductive party looks. You can achieve the same on your medium haircut. In order to get it you need to curly your lock into tight and neat curls and then pull all to one side. Secure it on the back part with bobby pins and spray hair spray.
Medium Wavy Hairstyle
Sometimes simple hairstyles are more luxurious and festive. For examples this cute wavy medium hairstyle is quite easy to get by a teasing com, hair curling tools and hair spray. I think you already know how to style it on your medium haircut. You can even go for the girlish side parting or side swept hairstyles to have a more attractive look.
Elegant Updo Hairstyle for Medium Hair
Perhaps you often rock down and loose hairstyles in everyday life and wish to appear with an elegant hairstyle for the upcoming special event. There are various updo hairstyles for medium haircuts but the following options is very subtle, elegant and festive. It is so inspiring especially in its side gathered form.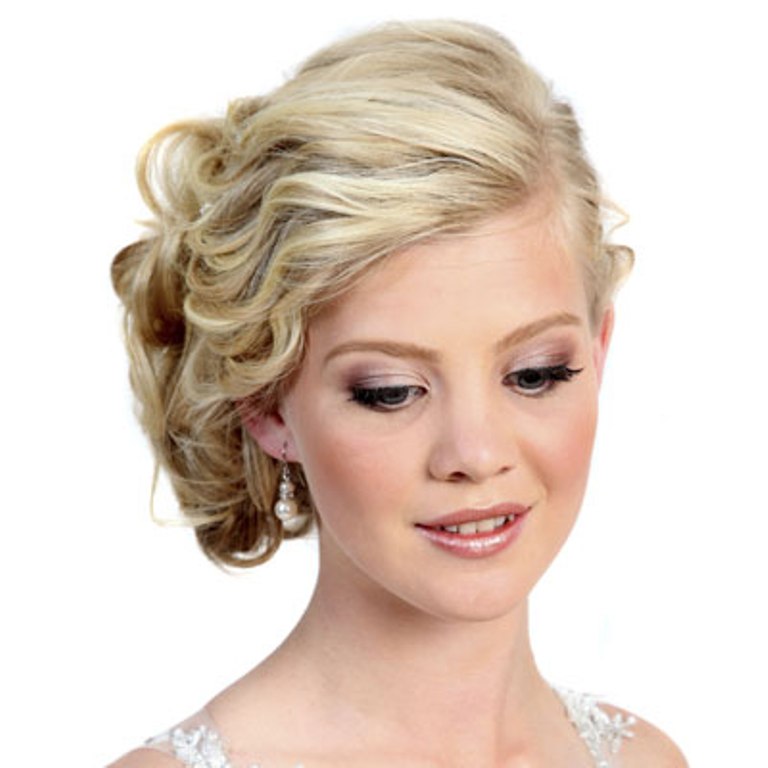 Wedding Updo Hairstyle for Medium Hair
Future brides with medium haircuts are welcome to try a tuck updo hairstyle. It makes hair visually longer and gifts you very romantic appearance. In case you are planning to wear hair accessories you can match this updo with cute and small decorations.