Color adds a unique look to your hairstyle. It's not surprising to see men coloring their long or short locks. Since the tendency of coloring hair is growing, consequently shades are becoming more diverse. Probably many of you would never imagine men wearing bold shades but I should admit that men equally rock bold shades.Like females, males also should consider some important options before choosing a hair color. Both natural and bold shades will add extra shine and energy to your locks. There are so many ways to color your locks, start from light options such as hair highlights. Check out men's hair color ideas to get inspired.
Medium Natural Brown Shade
Even if you have natural brown shade, opt for another brown hair hue to add some shine and texture to your locks. For the beginning medium brown is the best option. Natural medium brown shade works well with many skin complexions but it is particularly perfect for men who have a fair to medium natural skin complexion.
Copper Brown
Copper is classified into the group of red hair colors. So the blend of copper and brown looks pretty interesting. This combination will bring out the texture of your locks. Well, according to hair colorists copper brown will complement warm skin complexion. If you don't know I will add that warm skin contains yellow undertones. Whenever you get this shade keep your hair curly!
Warm Dark Blonde
Nowadays all blonde shades are popular among men. Here you can see dark blonde mixed with copper hue. This hair color requires warm skin tones. Of course your eye color is also important, for this reason we highly recommend you to consult with your hairstylist. Medium-length is the most preferable cut for this shade.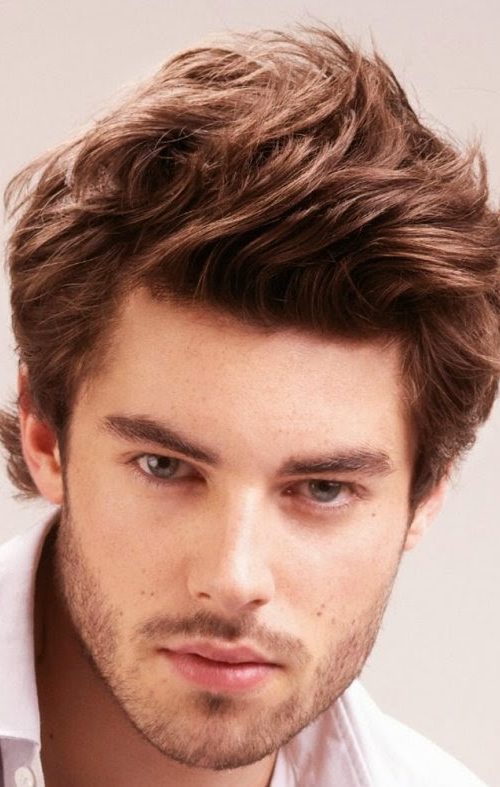 Grey Hair Color
Grey has already gained popularity both among men and women. Scary grey hair turned to be the trendiest hue. Those who consider having grey hair should definitely know that this shade works well with cool and medium to light skin tones. Erstwhile grey shade is nowadays' blonde, so if you have proper skin complexion, then go ahead with it and make a statement.
Bold Shades
Are you brave heart man who is ready to go for different experiments in order to find the best shade suitable for his nature? If yes, then you need to think about men's bold hair color ideas. Be that pink, blue, green or something else; make sure that you are going to stand out of the crowd. There was a myth like bold shades are suitable only for cool skin complexion but Afro-American men proved that it is not true by wearing bold hair colors. By the way it is necessary to consult with your hairstylist before choosing any bold shade.