Sometimes it is really hard to know what to do with uninspired hair. Monotone colors and boring haircuts are not trendy anymore.
#1 Layered Medium Bob
Switch up your hairstyle with modern twists. Here are some looks that will undoubtedly convince you to invest in some game changing layers. Layered hairstyle can be worn in various ways included faux 'dos.
#2 Red Layered Haircut
Layers play a face framing role which brings out the beauty of face features. You can get subtle layers on various hair lengths: long, medium, short. Layers will undoubtedly change you appearance. Now check out females 'subtle layered hairstyles.
#3 Shoulder-Length Layers
If you have medium-length layers and a round brush to spare, brush hair away from the face to achieve those swooshing strands near the nape of the neck. Actually it is iconic hairstyle which is meant to make women look more elegant and sexy. It is a style for all occasions.
#4 Medium Waves
Crimped hairstyles have already made their great comeback. Upgraded version of crimped hair looks even better. Recreate this ultra-easy crimped style by sleeping in braids or with the help of foils. You don't even need modern technologies to have a crimped hairdo. If only all our hairstyles could be styled while we are sleeping, no girl would have anything to think.
#5 Half up Half down Hair
For your next night out try the following half up half down style making sure to leave few subtle strands out around your face. This hairstyle can be worn everywhere. The best thing is that it will show the beauty of your layered cut.
#6 Sleek Strands
Girls, if you have asymmetric layers, leave your hair parted down the middle. Use blow dry to straight down and prevent flyaway hair.  Grab a round brush inwards towards your face to get the style that we have represented below. Since this layered hairstyle keeps hair out of face, focus on getting groomed and styles eyebrows.
#7 Side Swept Layered Lob 

The choppy textured look comes courtesy of strategic layers that underscore cool hair highlights. What about elegant tucked back hair? This easy and chic hairstyle can be created within five minutes if of course you have a proper haircut. Combine it with your sporty or classic outfit and enjoy the style.
#8 Layered hairstyle with bangs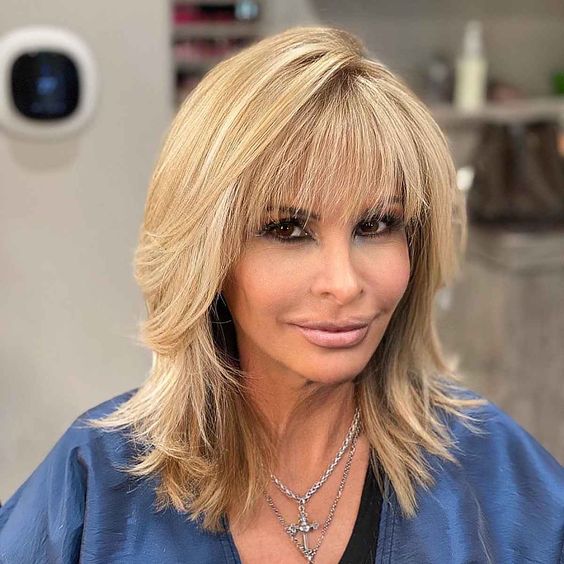 There are really many ways to style layers. With gorgeous layers use a barrel iron on your ends to achieve spirals of varying lengths. Waves will soften your edgy ends and add a cute and breathtaking look. Every woman wearing this hairstyle will stand out by her femininity and tenderness.