A messy and unkempt ponytail can be updated, upgraded and modified to be matched to all face shapes, hair textures and lengths. The tendency of wearing a ponytail hairstyle is growing day by day and modern twist added to a pony is outstanding. The most impressive thing about these updos is that everyone can find something according to her preferences. It is possible to enhance the pony with a single or double braid, or just a simple twist. If you want to get new ideas to style your pony then have a look at the following effortless messy ponytail hairstyles.
Mohawk Braided Ponytail
Ponytails can be styled into a punk rock without any razor cut. How to do it? Well, create a French or Dutch braid in the center of your head, leaving the hair on the sides loose. Stop plaiting below the crown and tie with an elastic band. Bring the rest of hair to the braided place and tie together into one pony. Top should have a Mohawk-like effect.
Retro Glam Ponytail
Voluminous, messy, bouffant hairstyles feature retro dos. Throwback hairstyles from years ago are ideal for dressing up today. Try to create a large, rolled-up pompadour up and a ponytail at the back of your head. It is an elegant and funky style which you should definitely try out.
Low Hanging Ponytail
Messy ponytails have never been so flattering and sexy. Low ponytails are pretty popular this year and the tendency of wearing a low pony is growing day by day. The magic of this hairstyle is in its simplicity. All that it requires is a quick twist and pins. Spray rolled-up area to be sure that it will stay in its place.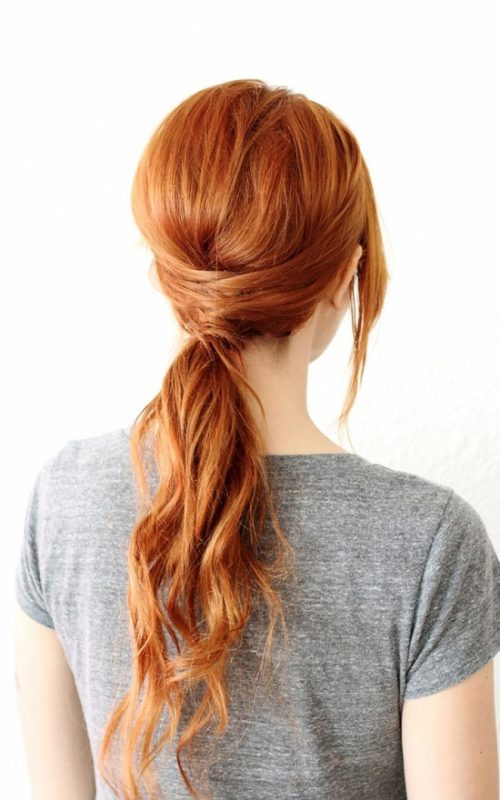 Messy Ponytail with Side Fishtail Braid
Are you ready to go for a slightly complex braided look with a fishtailed messy ponytail? It is said that this ponytail is perfect to create on second or third day hair. (Isn't it great?) Simply braid the front of the hair moving around the head toward the nape.  (You should know how to get a fishtail braid). Pony it up with the rest of hair and your ultra feminine ponytail is ready.
Double Dutch Braided Ponytail
If you use your imagination you can really create impressive hairstyles. Sometimes two braids may look better than one. A Spiffy ponytail is marvelous even without any adornment, but in some point you need variety. Braid your strands through to the ends and leave them loose.
Medium-Length Messy Ponytail
You don't know to choose a high or low ponytail? Well, there is a middle ground option too. You should definitely try out a mid-length pony. This is a perfect way to control you thick and unruly hair. It is a cute and effortless hairstyle for school, work and workout look.