Short Blonde Haircut
Any blonde shade can soften your short haircut. All you need is to find the most ravishing shade for you. Among trendy blonde hair colors you will find platinum blonde, ash blonde, golden blonde and light Swedish blonde hues. Pick the one that goes with your complexion.
Short Haircut in Pastel Hair Colors
The dolly look which is so required these days is achieved by pastel hair colors. They are perfect for short pixie and bob haircuts and tend to make your short hairstyle very delicate and tender. Stylish pastel hair colors are lilac, mint green, baby blue and light pink. If you want a warmer shade you can opt for the eye-catching pastel peach or pastel apricot hair colors.  
Short Red Hairstyle
Copper red, fiery red or the natural-looking ginger red hair colors are waiting for you to choose for your short haircut. There are many light and dark red hair colors among which every woman takes the best shade. This color grabs attention and makes you stand out from the crowd.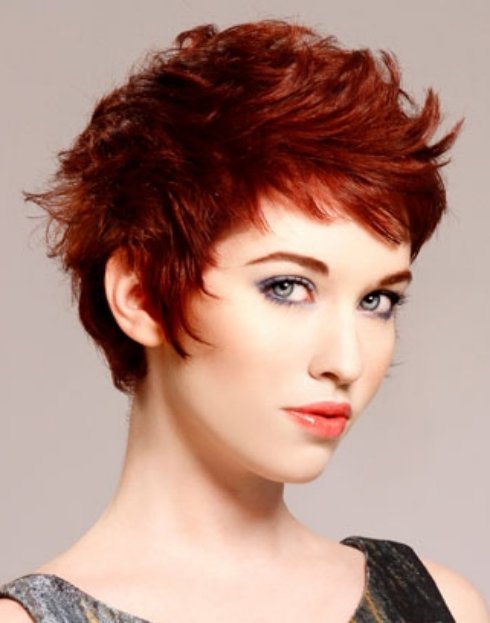 Highlights on Bangs
If you have short hair with long bangs experimented with highlighted bangs. Adding vibrant shades only on bangs is very creative and fascinating for any short haircut. If you have light hair choose bright pastel hues and if you have dark brown or black hair then opt for vibrant purple, blue, green and red highlights. Women who want classy effects can experiment with caramel, bronzy brown and blondish hues.
Short Ombre Hair
Ombre is a hot style for any length of hair. Though it is best reflected on long haircuts but the short ombre hairstyles are also very subtle. From regular ombre styles to the astounding reverse ombre you are welcome to find your style. So, rock a unique ombre hair color in 2021 on your short haircut.