Both young and adult women are starting to appreciate the glorious allure of grey shade. Grey hair shade is appearing on the catwalks and in the trendiest and most popular salons. Every woman tries to conceal their premature grey hair but nowadays there is no need to do it because grey is one of the most popular shades to wear this year. There is a concept or idea that black skin owners are not free in their choice, but recently all those myths have been broken. You, ladies with black skin, can wear the most impressive shades of grey or any other bold hue. You don't believe us? Okay! Tour our gallery of 2021 grey hair color ideas for black women and everything will be more than clear.
Long Grey Hair
If you have decided to go for a grey shade, version one is to slowly lessen the amount of shade and allow the grey to appear. Next version is to add some lighter ash highlights to compliment the grey tone. A right haircut is a key to going grey so you don't end up with a washed out look. Below you can see long luxurious locks which look perfect combined with a grey hair color.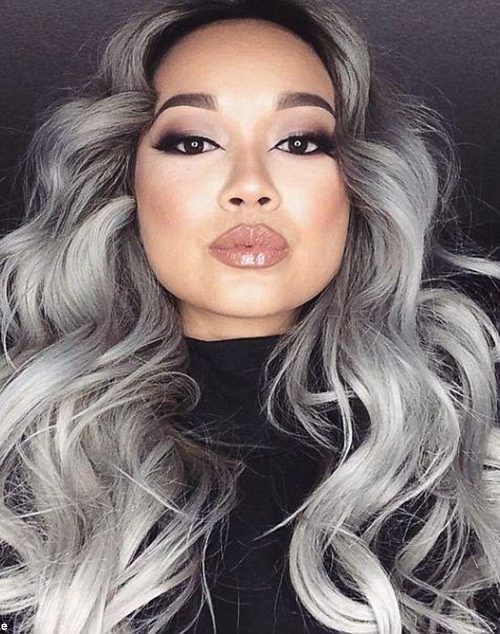 Medium-Length Grey Hair
The grey hair movements still can be spiced up with many new hair color variations popping up every day. Granny hair can be worn in many different forms: mixing look with other hues, wearing it solo, in ombre form or simply placing some grey hair highlights in your locks.  Here, lady is wearing grey hair with some cute highlights.  But would this shade look cool without a right haircut?
Grey Hair with Darker Roots
Next dodgy option to create a balance between grey shade and your skin complexion is to keep roots in a darker shade. I assure you it is the best way to keep everything in harmony. Grey shade will lighten up your dark skin complexion and compliment your beautiful locks. The most popular celebrities have already tried this method; it works with blonde shade too.
Grey Ombre plus Long Locks
I have already mentioned that there are several ways to wear grey shade. So ombre is one of them. The combination of grey and dark natural brown or black shade is simply outstanding. Ask your hair colorist to blend these two hues and you will be completely satisfied with the result. Long locks will bring out the beauty of this ombre.
Short Flipped Haircut
Popular hair colorists recommend using a silver shampoo which helps to brighten the hair and remove yellow unflattering undertones that grey shade has a tendency to do. As soon as you get this shade, let your hairstylist give you all those instructions how to keep your gray hair fresh.