Bowl bob or pixie haircuts known also with the name mushroom haircut, are now introduced with modern touches by professional hairstylists. Being a retro-inspired hairstyle bowl cut is now met in cool hair colors, undercuts and super sleek hairstyles. Actually bowl haircuts are ideal for naturally straight and soft hair. They work well both with thick and thin hair and therefore give you the opportunity to look attractive with any straight hair type. Surprisingly bowl haircuts are worn not only by women but also by men. Here represented short bowl haircuts for straight hair can be chosen in 2021 as they are the trendiest options in the fashion world.So, this classic haircut has evolved greatly and due to some famous ladies such as Rihanna, Zendaya, Miley Cyrus, Agyness Deyn and many others it has become one of the most popular short haircuts among bob and pixie styles. Compared with bob bowl haircuts pixie bowl hairstyles are achieved with undercuts and are shorter on the sides and on the back part.
Though bowl bobs and pixies are bold hairstyle for women and are sometimes combined with edgy hair colors but they appeal to many people who seek for radical changes in their appearance. Generally the mushroom shape is created with the help of layers which start from the top part and remind of a gradual change of lengths.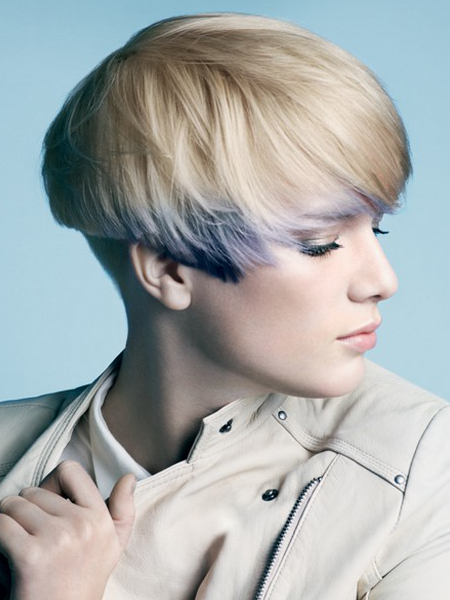 They are accompanied by long straight bangs which hide the forehead and draw attention to the eyes. Those who look for more dramatic changes can go for shaved sides. However it is quite risky as it can add a harsh and boyish effect. Being a short haircut it helps you to bring out your face shape and beautiful facial features.
 How to Style: Now I am going to tell you the best styling tricks for fresh bowl haircuts. If you have gone for a bowl undercut pixie hairstyle you are welcome to dye side part short hair in a dark and the top part layers in a light shade. Creating a cool contrast between hair colors you will stand out from the crowd as well as will bring out the perfect shape of your haircut. If you have opted for a bowl bob haircut then dye the fringe in one and the rest of hair in another shade.
Here you see a flashy example of a rainbow-colored bowl haircut which is so playful on the fringes and so soft on the top part. Well, if it's not for you choose a monotone blonde shade. Platinum blonde is good hair color for short haircuts. It softens and makes it more delicate. What concerns the hairstyles I can say that the best styles are shaggy or super straight effects? In order to achieve it you should rub hair cream and flat iron.