80s hairstyles are all about crimps! Whether you believe or not but in 2022 they are back with modern twists. Crimped hairstyles look great both on long and short strands but today we are going to represent some crimped hairstyles for short hair for 2022. Females who have always thought that they can't pull off crimps just for having short hair will change their minds after checking these gorgeous pictures. When it comes to cool hairstyles, length is not really important.  
Colorful Crimped Hair
Bob haircut looks more interesting when it is crimped and styled in a carefree style. Fun personalities should consider combining it with vibrant shades. Brighter hues will grab more attention. Anyway note that here only certain sections of the strands have been crimped but they still highlight the overall hairstyle and make this design stand out. Try it and you will not regret!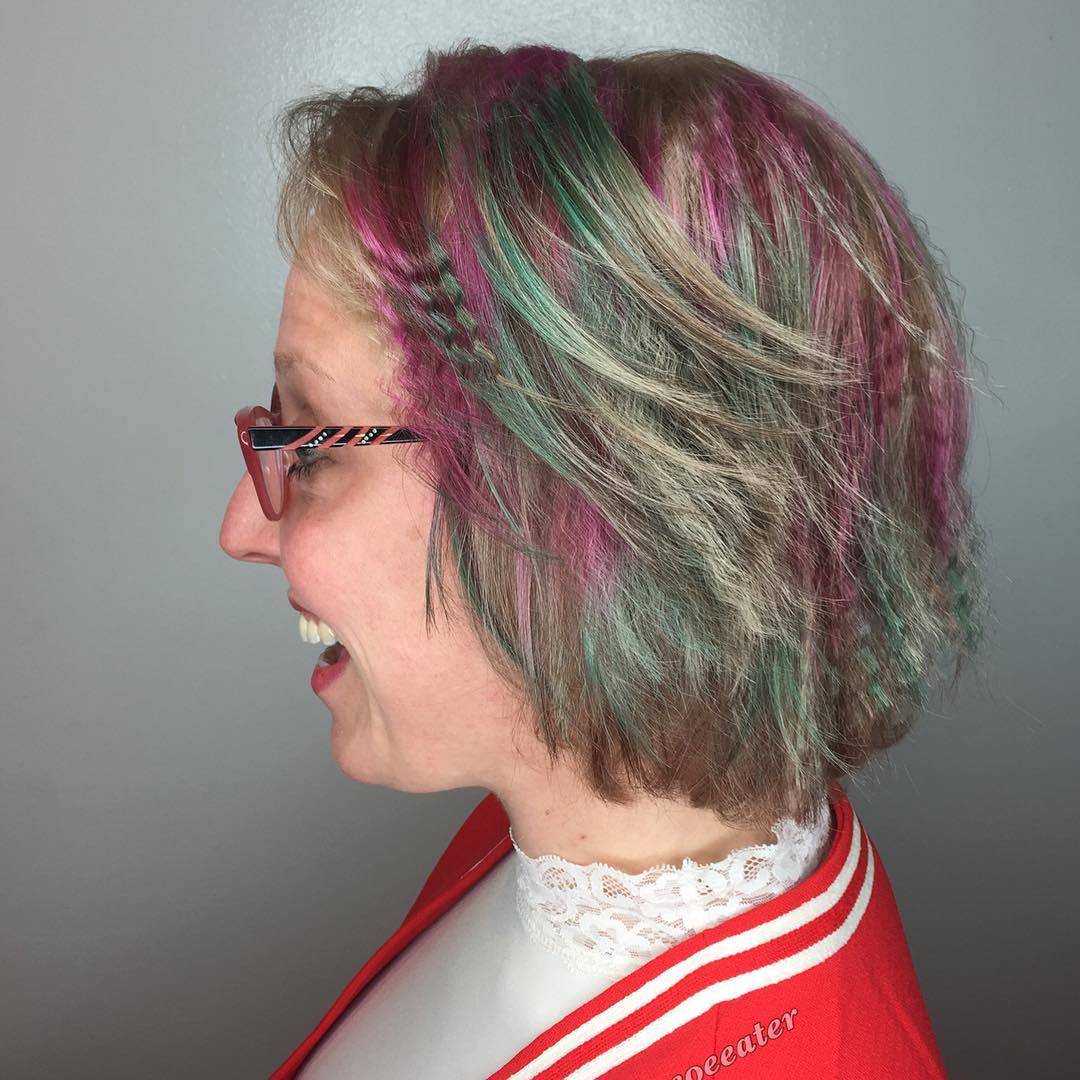 Messy Rainbow Bob
What about this style? It is not for soft-heart ladies since it has a bit bold and wild look. If you want to achieve it then simply add some face-framing micro braids and leave in for a few hours. Well, this way of creating crimps works well for ladies with wavy texture. In case if you have straight locks, consider mixing micro and large braids for different textures. However rainbow shades will update the overall hairstyle.
Crimped Pixie Hair
It is a bit unexpected style but we truly love it.  This particular hairstyle proves that crimped hair also works on really short locks. The undercut pixie bob gets a chic look with some razor shaved lines and micro crimping up on top. Anyway the texture of the strands adds some modern touch to platinum blonde strands. Note that the locks are styled in a carefree and messy pattern.
Afro Crimped Hair
When you crimp your kinky texture the result happens to be ridiculously gorgeous. Afro-American's crimped hairstyles look so magnificent and unique particularly on short bob hair. This particular hairdo stands out due to grey color too. Everyone wants to go grey since it flatters almost all skin tones. This headdress can be pulled of both casually and formally.
Crimped Short Hair
What about this style? It is a bit crazy hairstyle, but you should definitely try it out if you have short hair. Everything about this hairstyle is so flawless- texture, volume, height, color and etc. Apart from crimping, bangs also grab too much attention. You will need to keep your bangs super straight to create a gorgeous contrast between textures. Pull it off and you will definitely be different!