Men's modern hairstyles have already reached to the apexes. Who could imagine that men's hair trend is also going to develop day by day. I am fascinated to see so many creative hairstyles for men. I think something has changed; probably it is the way of people's thinking. Guys started to sport the same hairstyles as women do. They don't fear to go for experiments and try new hairstyle ideas. It is great really that nowadays we can see many stylish men walking down the street. Now get ready to see men's modern hairstyles for 2021.
Short Hairstyle for Modern Men
Short haircuts are men's signature hairstyles that will always be trendy. There are several kinds of short hairstyles such as bald (no hair), scalp (when the scalp of your head can be seen), burr (just grown hair are visible), butch and crew haircuts. All these short hairstyles are effortless and stylish. You do really have a big choice.
Slick Back Hairstyle
Modern slick back hairstyles look exactly like this. A little volume and faded haircut upgrade this slick back hairstyle. If you want to copy this modern hairstyle then you need to start from a proper haircut. As soon as you get the copy of this haircut, take your comb and hair gel and go ahead.
Pompadour Hairstyle
We can see pompadour hairstyles everywhere. Is pompadour that much trendy this year? Well, pomp hairstyles nowadays are on the center of attention. Different men prefer different pompadour hairstyles. We define pomp as men's hairstyles in which hair is combed up from the forehead without a part and sides are short.
Modern Hairstyle with Beards
Let's not forget about men's beards because the most of hairstyles look even better due to a proper type of beard. Like hairstyles beards are also diverse. Today men choose long thick beards with undercut hairstyles.
Deep-Parted Men's Hairstyle
Some vintage hairstyles are back with modern twists. This vintage haircut is better with new nuances. For example below you can see a deep side-parted hairstyle, which is popular to wear with faded haircut. I think this hairstyle looks better with shaved-face.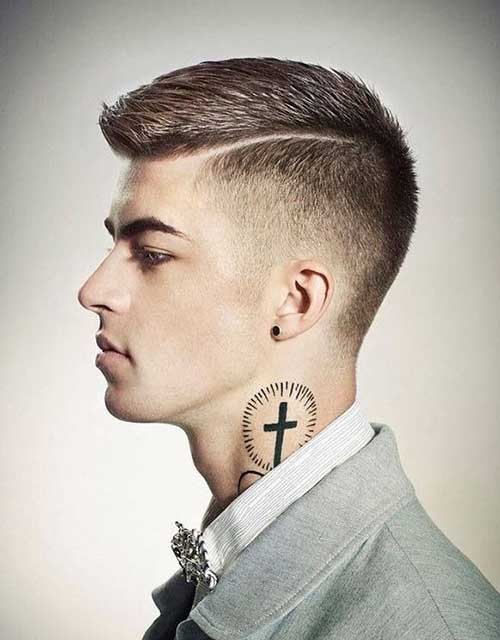 Undercut Hairstyle
This undercut hairstyle is for those who want to stand out from the crowd with their extraordinary hairstyle. Sides are shaved and top is full of hair. It looks so classy, try to match it with your tux and feel the style. After seeing this hairstyle many men will like to opt for it.
Modern men like to wear knots, ponytails, updos, half up half down dos etc. They don't fear to speak up about their preferences with the help of hairstyle. They can even dye their hair in different shades. By the way it's time to try trendy and stylish hairstyles.