Spring is almost here and the hairstyles which we should choose for this season are supposed to be light, a bit messy, voluminous and natural-looking. Short bob and pixie haircuts with tousled waves are the best choices for medium to fine hair. They are girlish, soft and subtle hairstyles to wear in everyday life. Layers that are long on the top and shorter on the side can provide you with a cool pixie haircut which is ideal for tousled styles. As for bobs, they are supposed to be razor cut at the tips and soft on the tops. Check out these short chic haircuts for 2021 and learn the best ways of styling them right.Short Tousled Pixie Hairstyle
Everyone knows how boyish short pixie haircuts look especially when hair is straight. Once you change it into a bit wavy, full-looking and texturized hairstyle it becomes girlish and lighter. This example is an excellent one for you to decide whether your hair type is suitable for it or not.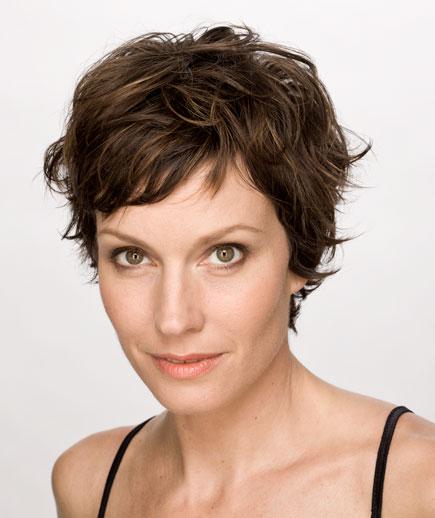 How to Style: Women with naturally wavy hair can easily get this lovely tousled hairstyle on their short pixie haircuts. The long layers on the crown enhance the beauty of the waves and therefore the style looks effortless. Just rub hair mousse all over hair and lift up the roots with the help of your fingers and go for blow drying. Smooth out the fringe with a brush and apply a little amount of damp matte hair pomade and run your fingers through hair.
Short Tousled Bob Hairstyle
Have you just gone for a short razor bob haircut? Do you have thin locks? Why don't you add vibe, volume and attractiveness with the help of tousled waves? Well, perhaps you need some inspiration. Have a look at this cute celebrity. Scarlett's hairstylist has chosen the right technique to provide her with the desired full-looking short hairstyle. 
How to Style: One you are doe with a razor haircut pass on to styling by hair products and curling iron. Rub matte hair cream on your side and back locks and curl section by section into loose waves. Run your fingers though the waves once they are cooler and achieve dainty messy waves. This is the tousled style you needed. As a finishing touch pull face framing locks to one side and spray hair spray.
Short Tousled Pixie with Bangs
Short haircuts with long bangs generally differ from the rest with their subtleness and attractiveness. Compare pixie haircuts with and without bangs. You will feel the huge difference. While short pixies without bangs bring out your facial features long bangs soften them and highlight your femininity. However not everyone feels convenient with bangs.
How to Style: Short pixies with bangs are easier to bring to a possible gorgeous tousled look. Bangs allow you to get more volume and fullness on the front part. Start by rubbing medium-shine hair crema on the top and on the bangs. Then blow dry by brushing and again apply a little amount of hair wax to fix the waves created while rubbing hair products. If your hair is too straight then use a curling tool.
Tousled Bob Hairstyle with Bangs
Like the previous bob hairstyle this one is again ravishing and voluminous but it's more girlish and youthful due to the bangs. Anyone who likes bang haircuts will surely love this tousled bob hairstyle.
How to Style: Curl hair all from the top to the tips expect bangs. Then rub shiny hair cream and run your fingers through the curls to bring the hairstyle to a possible loose, soft and tousled effect.