Cool Hairstyle Ideas for 2022
Cool hairstyles for 2022 are all about texture and volume. A trendy hairstyle tends to bring out the best of your look. Below we have put together some incredible hairstyles, using Instagram as a source of inspiration. By rocking any of these styles, you will always be in the center of attention. I assure you it is never let to go for a new hair color and haircut. The following ideas will provide you with a right amount of inspiration. Keep reading and find the best versions for yourself.
Medium Half Updo
Here is a hairstyle for women with medium hair. It requires twisting some sections of your hair and securing on the back of your head. But that's not all. This hair color is also amazing. It gives a unique appearance to a regular half up half down hairstyle. It is an ombre that requires transitioning from light brown hair color to lavender towards the tips of the locks. It is a bold color option for bold ladies.
Braided Updo
Braids are so popular nowadays, so take your chance to rock them. Braids can be worn in countless ways. Pulling them up in an updo style is a great idea. A single braid will give a sophisticated touch to your hairdo. It is not necessary to go for a complicated braid. Fishtail, three-strand or Dutch braids are fantastic for creating updos.
Fishtail Braid for Medium Hair
Fishtail braids are ridiculously gorgeous in all shades and shapes. The following fishtail starts from the top of the head and cascades down while demonstrating the beauty of messy hair. Note that this fishtail is not tight, if you also want to achieve a bulky fishtail just loosen it. A good hair color is bonus for the following style. Have you ever thought of light blonde?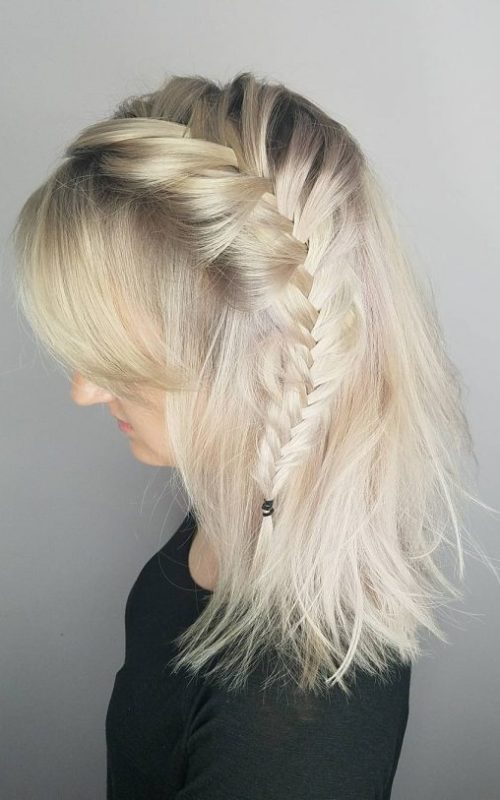 Messy Undone Hair
Messy and undone hairstyles are totally in mainstream. Modern hairdos shouldn't be overdone as they look a lot better with a right amount of messiness. Have a look at this youthful hairstyle. To get it, ask your hairstylist to place some lovely layers throughout your locks and by sweeping your hair to the side achieve this fantastic casual hairdo.
Blonde Ponytail
Ponytail is the next on our list. Ponytails are great to wear in the formal settings too. The best thing is that they are super affordable. The following pony is super easy to get. It is all about making your hair smooth and pulling it back in a low ponytail. Take some strands out of your pony and twist it over the base. When it comes to hair color, highlighted blonde is just amazing.