The ways of wearing Mohawks are versatile. You can make it curly or straight, bold or elegant, it is totally up to you. Because of being sharp and edgy the Mohawks have been mostly meant for men but elegant patterns added to the hairstyle make it super wearable for women too. Brave girls prefer to wear original version of the Mohawk that requires shaving the sides. Though it is not must since you can mimic the shaved sides by creating braids or slicking them up. By the way you can wear Mohawks everywhere. For some inspo check out these gorgeous curly Mohawk hairstyles for women 2022.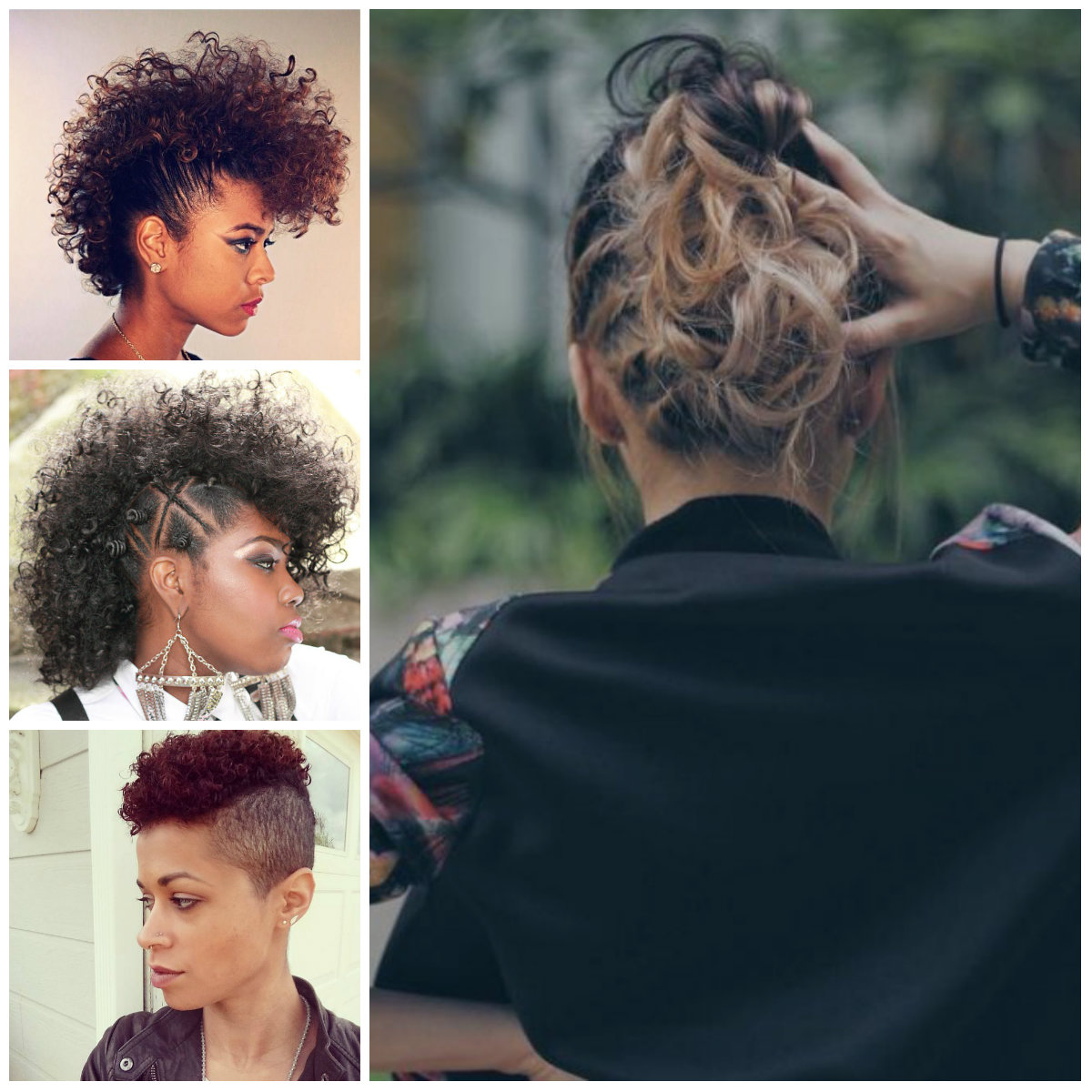 Short Mohawk
This is a bit boyish look with feminine touch. It is an original appearance of Mohawk that requires edgy and shaved sides. The top sports some natural curls that are just magnificent. However this curly hair is more appealing due to the addition of red dye that creates more contrast between the top and the sides. If you are brave enough to have a headdress like this, then go ahead with it.
Natural Curly Faux Hawk
This hairstyle features Afro-American females who are graced with natural kinky and thick hair. The curls on the top have an amazing volume dangling over the forehead. The girly look is enhanced with the help of rich burgundy hue of the curls and slicked up sides that mimic the sharp and edgy look of the Mohawk. This headdress is great to display your natural texture.
Sharp Mohawk
This hairstyle has a nice combination of gorgeous curls and trimmed hair. Here, the main purpose is to create a bold look and it has been perfectly achieved. The sides are cut to a buzz, while the top involves thick blonde curls running the middle. The texture of the strands is everything and it will make anyone stand out from the crowd.
Afro Faux Hawk Updo
Apart from amazing curls on the head that fall over the forehead the locks have some trendy patterns such as plaiting sides. The sharp Mohawk has been made bolder with the help of volume of the dangling curls and the way they run to the nape of the neck. The bouncy curs are going to have a fantastic look in any season of the year. So consider this option too.
Braided Mohawk
Whether you know or not but braids will definitely help you to create an ideal faux hawk. This cute Mohawk provides a look that is just stunning with crossover braids. The sides involve fishtail braids that accentuate the highlighted curls on the top. Apart from a gorgeous styling, the light and dark shades are used to make the look even more flattering.