I know from my own experience that women with thick and curly hair always complain without realizing that they are blessed. Well, it is true that thick and curly hair is uncontrollable and hard to style but all hairstyles look so admirable on such hair type. The next important point is to choose a right haircut and your natural curls are going to look sexy and hot. Embrace your natural texture with the trendiest hairstyles. In this article I am going to represent some chic hairstyles for thick and wavy hair. If you pick up a right hairstyle you will look charming every day.
Bob Hairstyle for Thick and Wavy Hair
All ladies love to wear a bob haircut. When it comes to reducing the thickness of hair, bob is the best salvation. This style is bouncy and fairy and it is the most accurate choice for ladies who are looking for the best way to present their volume. Waves are so easy to achieve particularly when you opt for hair spray.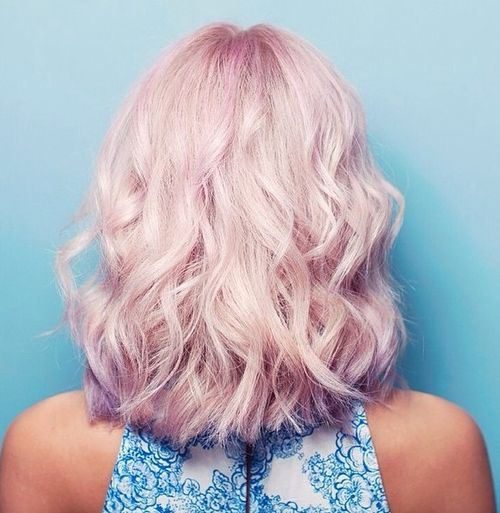 Wavy Updo with Bangs
This updo for thick hair owners is easy to create even by your own. I assure you that it will take not more than several minutes. After curling your hair pull it back and pin it up leaving some face framing strands flow gently down on your face. It is an updo which you can wear both formally and casually.
Curly Half up Hairstyle
With such curls you don't need to worry about anything. All you need is to take some sections from both sides and gather them up into a messy bun. A curly half updo style will keep your hair out of your face and stay in the place all day. This hairstyle will fetch attention and make you stand out of the crowd.
Side Braid Wavy Hairstyle
Braids are everywhere and they add a unique touch to all hairstyles. It is never bad to pair your wavy hair with a single braid. It is one of the most flattering styles that you should deffinitley try out. Such big waves are possible to get by a big barreled curling wand. Loose braid was added to waves for a more casual look.
Twist and Pinned Up Half Updo
Half updos show off your healthy and thick locks in the best way. According to hair experts thick wavy hair owners should involve two important features: Layers and a right hair length. This cute layered haircut styled into a fabulous and fun hairstyle for all occasions.
Bun Hairstyle for Wavy Hair
Sometimes we deserve a day off from heavy and textured locks. When you feel tired of your thick hair consider wearing a bun hairstyle which is a classy and elegant way to pull your hair back quickly without spending much time.