Old is Gold. This proverb is the best way to describe retro hairstyles. Nowadays we can see many of our beloved celebrities wearing retro hairstyles. I think these hairdos are very hot and sexy. They make females more tender and seductive. Retro styles are again back. Young ladies and mutual women, get ready to sport new hairstyles and rock the world!
This time we have paid attention to long hairstyles on red hair. On our list you may find a hairstyle which perfectly describes your personality and preferences. The best side of these hairstyles is that you can wear them for your favorite event, it can be weeding party or any other formal meeting. The most important thing is to match these hairstyles with your outlook. Now let's see the hairstyles that we have picked up for you.
Retro two-toned straight hair
Well, the look is very impressive. One part of her hair is dark red and another part is black. I know that not all girls are ready to go for this hairstyle but our brave heart ladies will be appreciated. What does give to the hairdo a retro look? True, Bangs! A short style of her bangs makes the look retro because many years ago girls used to wear exactly such kinds of bangs. You may feel free to consider this look.
Pin up Retro Hairstyle
Pin up hairdo is an outstanding retro style. When you look at the style you may think that it is pretty difficult to create the look. But it is not difficult at all. You need to take side parts of your hair and after rolling it, to pin up with the help of hair pins. This style is created on burgundy red shade.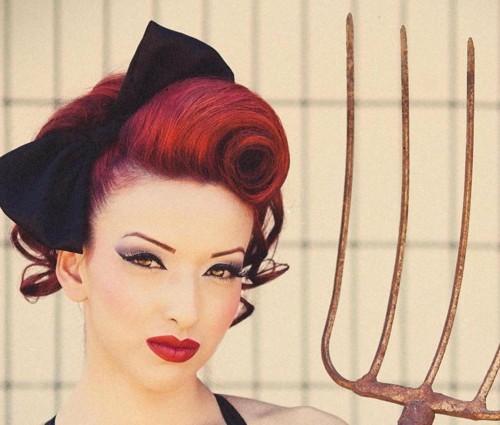 Finger Waves Retro Hairstyle
Finger waves hairstyle is my beloved one among all retro hairdos. It seems that this hairstyle is created for long hair but it looks good on short hair too. Red shade adds an incredibly beautiful gloss to the look.
Retro Updo Hairstyle
If you want to have a retro updo hairstyle then the following one is for you. This hairstyle will be perfect with your classic outfit. I do not think that you should sport high updo hairstyle with your casual looks. You will need to pass some time to get the copy of the hairstyle. Even if you are not ready to put your efforts for getting this hairdo, all hairstylists will be ready to help you.
 Wavy Retro Hairstyle on Ginger
Well, this hairstyle will work with your casual looks. Actually it is effortless look, particularly for those who have natural curly hair.