We have made a list of fall hairstyles to present you the prettiest, inspo-worthy hairstyles to start experimenting with today, tomorrow and every single day. We offer you to go through this list of hairstyles and find something appropriate to your nature. If you are ready let's start. 
Coiled, Stacked and Pinned Buns 
Make this 90s updo an excellent hairstyle for this fall. This is one of the easiest bun styles that you can create within minutes. Start it by separating your hair into three parts. Roll each part and tuck in a simple knot style. Note that the knots shouldn't be neat or polished. The messier the better. You can wear the bun formally as well as casually.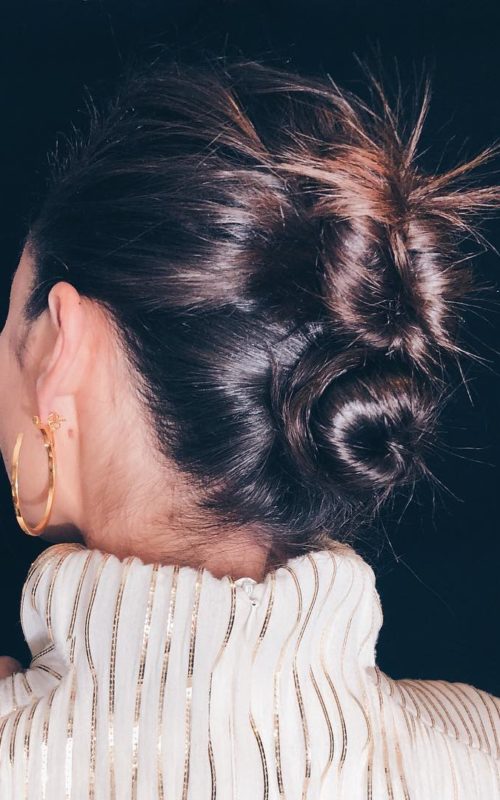 Choppy Layered Ponytail 
Ponytails are always in theme, as they are stylish and super easy. You can't go wrong with this ponytail. It requires layering your hair and securing in a simple middle ponytail. The look of the pony is based on your haircut. However, this particular ponytail is excellent for those that have a middle-length hair. When it comes to bangs you can have them or not. 
Silk-Tied Curls 
This hairstyle looks super cute and natural. It is a solution for those that have a big afro and don't know how to deal with it. All it requires is to pull your hair high and wrap a bow over it for an excellent casual hair design. The bow will not let your hair fall down your face plus it will keep your hair on the top of your head. It seems no accessory is needed to complete this style since it is already perfect in its imperfection. 
Half Uo Double Puffs  
The volume and dimension of these buns are something to draw attention. As you can see, mini curls are fabulous when worn in double buns. The style works for women with medium-length hair too. After creating the buns make sure to leave some tendrils out of the buns to make things more casual and effortless. You can create this look within minutes, so don't hesitate if you love it
Wet-Looking Finger Waves 
Waves are nothing but chic. You can wear them everywhere. Finger waves work in every style and on every hair-length. You can tie your finger waves up or wear them down it is up to you, the fact is that they are beautiful and always trendy. Get your favorite look of finger waves and rock the world.  
Photo Credits: Selected Hairstyles