It is not always easy to deal with fine and fly way locks but we know that ways to keep them under control as well as to beautify. Today I will offer the best haircuts for fine hair to try in 2022. Keep your eyes on them to know what to choose for your tresses.
Short Asymmetrical Haircut for Fine Hair
Asymmetrical haircuts are among the best hair styling ideas for fine hair. They change the structure of your haircut and tend to give you another look. Due to short and long layers you will have a fuller-looking hairstyle. Besides short asymmetrical haircuts are better with long side bangs which, in their turn create a thick-looking result in front.
Short Layered Pixie Haircut for Fine Hair
If you have decided to opt for a short and cozy pixie haircut in 2022 but your fine hair tells you that it's not a good idea you may consult with your hairstylist. He/she probably will offer you a layered pixie haircut. This the best solution for fine hair. Layered haircuts ad volume, depth and dimension.
Short Fine Pixie Haircut with Bangs
Do you want to wear a more girlish and delicate pixie haircut? Perhaps you think that your soft, sleek and straight fine hair won't give you this great opportunity, but I am here to show you one excellent example of a short pixie haircut with bangs. Bangs are here to create the full effect in front. They are styled in various ways from teased to wavy and from straight and smooth to messy.
Short Tapered Bob Haircut for Fine Hair
Between so many bob haircuts you are welcome to sport the fashionable tapered bob. This bob haircut is shorter on the back and longer in front. What concerns to the thickness of tapered bob haircuts I can say that they are quite thick on the back and sides due to the short layered cuts.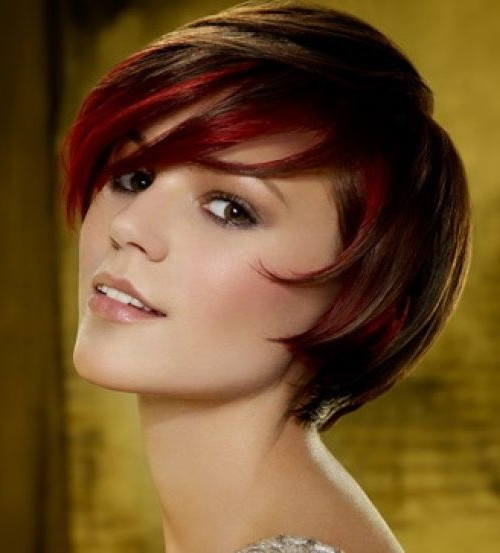 Short Textured Bob Haircut for Fine Hair
Textured bobs look like layered haircuts but they are more voluminous and have some messiness in them which adds extra volume. This haircut will gift you a feminine and more attractive look as well as will highlight your prettiness. Thanks to the softness of your fine hair it will look very subtle.
Short Fine Haircut with Highlights
Those who want to add more charm to their short fine haircut with fresh shades should definitely experiment with stylish highlights. Opt for the highlights which go with your base hair color, complexion and eye hue. After this you will see the incredible depth that highlights add to your thin locks. They are able to change your hairstyle into a lovely one.