There were times when women used to wear long hairstyles no matter they had straight or curly hair. Nowadays fashion trends offer short haircuts for both types. Bobs and pixies are everywhere and they come up with a wide variety of options which gives us the chance to find our style. While long hair makes you ordinary short haircuts make you stand out from the crowd. Compared with straight bob and pixie haircuts short curly hairstyles look more captivating, girlish and playful. Even in short styles curls tend to highlight your femininity and keep all eyes on you. Today we are inspired by many trendy short haircuts especially by the short natural afro-curls which have so much charm and softness in them. Afro-American women with curly, thick, messy, dense or frizzy hair should definitely try out of these styles in 2016.
Short Curly Pixie Haircut
The first style that you can sport on your natural curls is the short pixie. If straight pixies are boyish and harsh curly pixie haircuts look subtle and soft. They are very comfy especially for business ladies who find their hairstyles messy or unruly. With a chic short pixie you will not only feel convenient but will also change your entire look into another level. Short pixie cuts bring out your face shape and facial features highlighting your cuteness.
Short Curly Bob Hairstyle
If you want a more eye-catching and delightful hairstyle for your natural curls then sport the cute short bob hairstyle. Again we can compare it with straight bobs which are sleek and casual. Curly bob haircuts are quite voluminous, full and thick-looking. They go with many face shapes and are prettier with layers.
Short Curly Blonde Hairstyle
Changing the haircut along with the shade is great idea to have totally different look. Radical changes sometimes are so necessary that you go for them without considering several essential factors. In this case you are supposed to take into account not only the haircut but also the chosen hair color. Not every blonde shade goes with warm and dark skin tones. You must consult with your hair colorist to opt for the right blonde hue. The best blonde hues for short afro curls are honey, platinum, golden and dirty blondes. They lighten up your complexion and make your eyes pop out.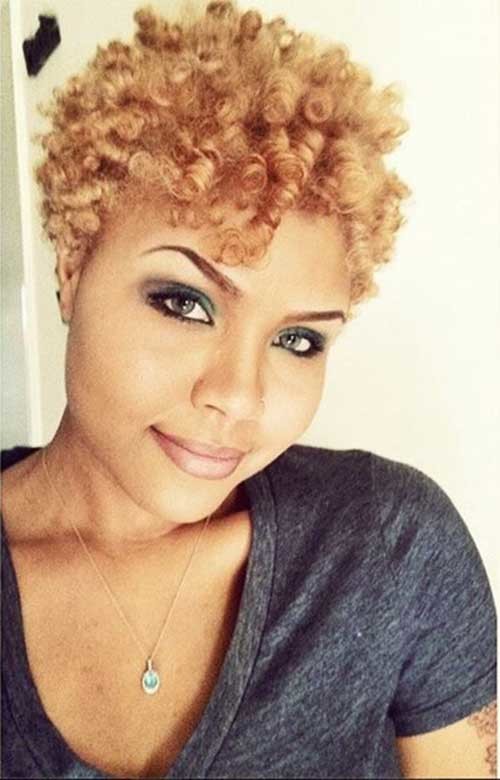 Short Curly Haircut with Bangs
Bangs tend to make you look younger and more delicate. They visually change your face shape into a slender, subtler and softer one especially in curly styles. Natural curls are very pretty in short bang haircuts combined with short pixie or bob styles. They can hide your forehead partially giving you a hotter and more graceful facial expression.
Comments
comments