Need a cool hairstyle inspiration for the coming parties. Let's say goodbye to the elegant and ritzy updo hairstyles and open up the doors for the relaxed down prom hairstyles in 2021. Let's finally show off the charm, the shine and the delightful thickness of our locks. Besides the simple curly hairstyles that we were used to style before, now we also have plenty of styles to use. Here are some of the hottest down hairdos that you can pick for formal occasions.Marcel Waves Hairstyle
The popular Marcel waves also called finger waves are great retro hairstyle for prom. They are incredible on long hair but the versatility and flexibility of this hairdo allows you to get it in any haircut. And this is the best part about finger waves. The elegant, neat and engaging effect of the shiny waves can grab attention and keep all eyes on you. It is a big wavy hairstyle idea for thick hair.
Center Parted Straight Sleek Hairstyle
The tendency of wearing classic straight hairstyles with center parting is increasing day by day. The beauty of this hairdo is very capturing and alluring. It is beautiful in its simplicity. The straight and sleek form reflects the glossiness of your hair color be it dark or light. You can get the hairdo easier if you have naturally straight hair. Women with curly locks may seldom go for it not to damage their hair.
Side Parted Curly Hairstyle
The luxury of the tight side parted curls can't be compare with any other ritzy hairstyle, this is a perfect hairdo for long hair but in case you have medium length locks you can achieve the same look by fixing the back part hair with bobby pins. A large-sized curling iron is ideal for such a luscious and seductive prom-ready hairstyle.
Slicked Back Hairstyle
You know what is the best thing about the slicked back hairstyles? Actually it doesn't as hair length. Even short pixie cuts are styled into slicked back elegant hairdos which bring out the face shape and facial features. There are two main types of slicked back hairstyles the first one is the half-wet-look and the second is fully wet-look. The difference of these hairstyles is touchable on thick and thin hair. That is to say, thin hair is great with the teased half-wet effect and thick locks look beautiful in fully wet-look style. Both are classic hairstyles.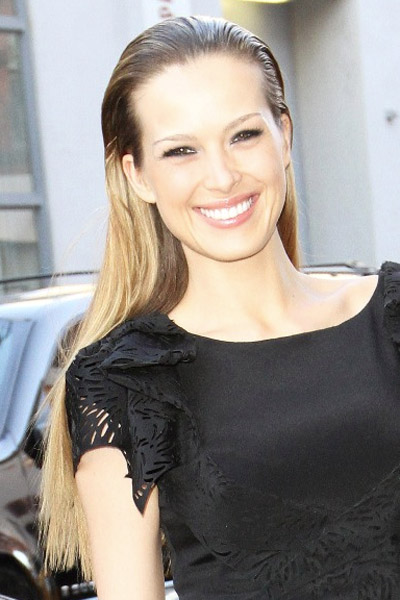 Elegant Half-Updo Hairstyle
What about a chic half-updo for the next holiday. This cute hairstyle is very elegant and attractive. It is more than fancy on thick and long hair. The top generally teased yet slicked back while the tips are loose, relaxed and wavy which provides the desired subtleness.