You think that spiky hairstyles have been trendy only in nineties? Well, you are right but nowadays they are back again and we can see spikes everywhere. Spiky designs look good when they are spiced up with modern twists such as tapered or faded sides and back, vibrant hair colors and etc. Some men think that spiky hairstyles cannot be combined with classic outfits but these examples prove that they make a perfect pair both with elegant and casual outfits.
Brunette Spikes 
Due to the golden brown shade the strands has incredible shine, though the cut is the main thing that takes the look to a top notch. Well, it involves keeping some thick strands on the crown and making them spiky with the help of hair products and fingers. To finish the style you will need to up sweep them. It is a completely effortless design that will be a real accessory for all young and mutual men out there.
Thick Texture
A littler creativity will provide you with a unique and fantastic hairdo. This particular design proves my words and demonstrates a gorgeous hairstyle with lots of natural texture. It requires leaving some thick textured bangs on the top of the head that you should style with a slight lift and back sweep and finish simply tapering the sides.
Heavy Spikes with Bald Fade
Thick hair makes the things easier, since you are not going to have troubles while creating some top 'dos like the one you see here. Once you have hair like this you will just need to mess them up and create a beautiful front sweep. To finish the style give a bald fade to the sides and you will have a headdress according to the latest trends.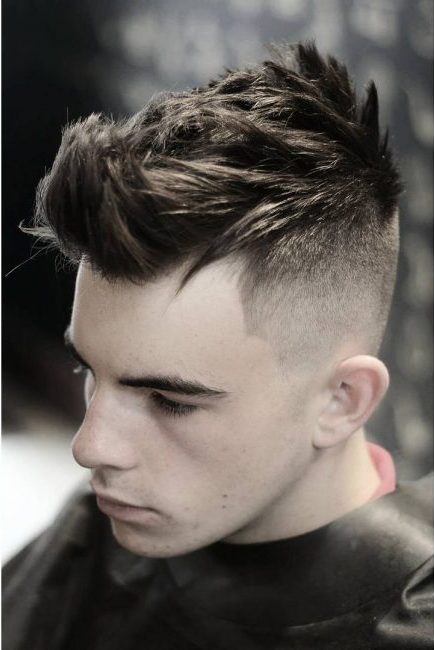 Simple Front Swept with Taper Fade
If your barber is skillful enough, make sure that you will have the most eye-catching and head-turning headdress ever and this particular design is the best example of that. It requires chopping the strands to form some short spikes at the top of the head and then give them a front sweep and nicely taper the sides. It is a style that doesn't require much care!
Blue Pixie Hair
If you didn't know I will inform that pixie haircuts work great for men too. They rock it in a unique way and this particular design perfectly demonstrates it. This pixie has a glossy blue shade and textured spikes on the top of the head. For styling you just need to sweep them aside.  With this unique hair color whatever you do, you will definitely stand out from the crowd.