If you are bored of your current haircut then you need to think about something fresh. Take some break and think about your next haircut. I suggest you haircuts with asymmetric bangs. Asymmetric bangs work really well on long, short or medium-length hair. The enigma of this haircut is that a side section is longer than the other one.All girls try to by mysterious, so that men will not easily read them. I promise that with asymmetric bangs you are going to have exactly such look. So get ready to see asymmetric bangs hairstyles for 2021.
80s Inspired Asymmetric Bangs
What if we will bring 80s haircuts back? Below we have represented you 80s-inspired asymmetric bangs. This is a little rebel style with short bangs and dark shade. Who wouldn't adore this magnificent haircut particularly when it makes your thin hair look thicker? In the morning you don't need to do anything because your hairstyle is already ready to capture the world.
Asymmetric Bangs for Straight Hair
Do you have fine and straight hair? The next asymmetric bang hairstyle is for ladies who like the body and the bouncy of this cool haircut. Asymmetric bangs on fine and straight hair is fabulous. Can you see that without going to dramatic, bob with asymmetric bangs add volume and some modern nuances to this look?
Pixie Haircut with Short Asymmetric Bangs
Short bangs always remind us about Audrey Hepburn. Short bangs are included into vintage styles which are popular even nowadays. I think you should go bold by switching up your hair color. Can you imagine bold pixie haircut with asymmetric bangs? At least I am sure it will keep your look fresh and trendy.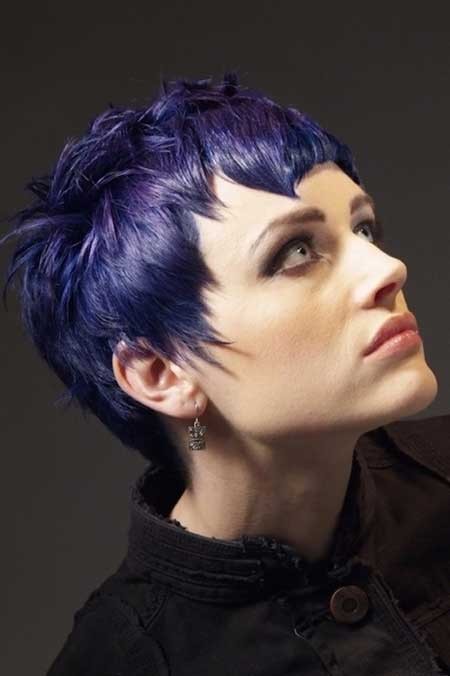 Asymmetric Bangs for Short Hair
The asymmetric bangs completely cover her face. Asymmetrical bangs suit all face shapes. These bangs will add dimension to your hair. Some ladies who have thin hair would really like to have some volume on their hair. By the way creative hairstyles give chance to all girls to wear their favorite hairstyle.
Asymmetric Bangs for Long Hair
I told you that there are asymmetric bangs for all hair lengths. Long hairstyles look even better with asymmetric bangs particularly when you keep your hair ends in a wavy style. Asymmetric bangs will visually make long foreheads shorter.
Asymmetric Bangs
If you have perfect face features then this following asymmetric bang hairstyle is for you. Actually nowadays asymmetry is a universal and trendy technique. What do you think about asymmetric hairstyles with skewed bangs? This bang is going to lengthen your neck and add even more charm to your style.
Asymmetric Bangs Hairstyles will sum your look up. You will be pretty much sexy for all men and you will attract enough attention. It rally costs to take a risk and opt one of these asymmetric hairstyles for summer 2021. So, hurry to find the best hairstylist who can help you to get the copy of asymmetric bangs hairstyles. Good luck with your experiences.